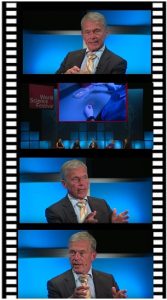 The research of McGowan Institute for Regenerative Medicine deputy director Stephen Badylak, DVM, PhD, MD, was center stage at this year's World Science Festival held in New York City.  Dr. Badylak, professor in the Department of Surgery at the University of Pittsburgh School of Medicine and director of the Center for Pre-Clinical Tissue Engineering within the Institute, participated in the panel discussion entitled "Forever Young: The Promise of Human Regeneration."  The program began with a video of Marine Sergeant Brian Smith, a clinical trial participant in the study entitled, "Musculotendinous Tissue Repair Unit and Reinforcement (MTURR)." The primary objective of the study was to assess mechanical strength and function in patients undergoing musculotendinous tissue unit repair and reinforcement with the use of biologic scaffolds for the restoration of both mechanical strength and function in these patients.  The results of the study were reported in July 2016 in npj Regenerative Medicine.
Along with Dr. Badylak, other panelists included Dany Spencer Adams (Tufts University), Doris Taylor (Texas Heart Institute), and Jonathan Butcher (Cornell University).  The discussion, moderated by Emily Senay (Mount Sinai Hospital), focused on the ongoing research efforts of the panel members including the mass-production of synthetic blood to meet supply shortages; the "bioprinting" of livers and kidneys on demand; the use of bioelectricity to aid in the re-growth of missing fingers and toes; and, the extracellular matrix and how it promotes healing and regeneration.
As noted by Dr. Senay, Dr. Badylak's day-to-day efforts include medical applications being used today in patients.
"One of the facts that my laboratory is most proud of isn't the number of publications and grants, it's the number of patents that have been treated by what was started in our lab.  So, we've got between 8 and 10 million patients that have been treated with extracellular matrix scaffold, but most of them are for rather ordinary, everyday things, for instance hernia repair.  Instead of using a synthetic mesh made from polypropylene you would make it out of extracellular matrix, and these are used now.  Twenty years ago, these sorts of scaffold materials did not exist," explained Dr. Badylak.
As noted during the lively and informative discussion, regenerative medicine promises to do more than just treat disease, injuries, or congenital conditions. It holds the potential to rejuvenate, heal, or completely replace damaged tissue and organs. If successful, regenerative medicine will have immense impact on how we care for the injured, sick, and aging — and how we think about death. This program explored mind-boggling medical advances as well as the societal and economic implications of a future in which everybody may truly be forever young.
The World Science Festival gathers great minds in science and the arts to produce live and digital content that allows a broad general audience to engage with scientific discoveries. Through discussions, debates, theatrical works, interactive explorations, musical performances, intimate salons, and major outdoor experiences, the Festival takes science out of the laboratory and into the streets, parks, museums, galleries, and premier performing arts venues of New York City and beyond. The event has been hailed a "new cultural institution" by The New York Times.
The annual live, week-long New York Festivals, which launched in 2008, have collectively drawn more than a million and a half visitors, with millions more viewing the programs online. The World Science Festival's original musical and theatrical works tour nationally and internationally, and March 2016 marked the launch of World Science Festival Brisbane. World Science U is the Foundation's online education arm where students and lifelong learners can dive more deeply through artfully produced digital education content presented by world-renowned scientists.  The World Science Festival is a production of the World Science Foundation, a 501(c)(3) non-profit organization headquartered in New York City.
Illustration:  Forever Young: The Promise of Human Regeneration.
Read more…
Forever Young: The Promise of Human Regeneration
Clinical trial:  Musculotendinous Tissue Repair Unit and Reinforcement (MTURR)
Paper (An acellular biologic scaffold treatment for volumetric muscle loss: results of a 13-patient cohort study.  Jenna Dziki, Stephen Badylak, Mohammad Yabroudi, Brian Sicari, Fabrisia Ambrosio, Kristen Stearns, Neill Turner, Aaron Wyse, Michael L Boninger, Elke H P Brown & J Peter Rubin.  npj Regenerative Medicine; published online 07/21/16.)