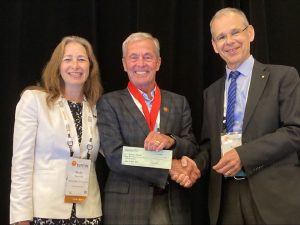 McGowan Institute for Regenerative Medicine Deputy Director Stephen Badylak, DVM, PhD, MD, is the inaugural winner of the Jensen Tissue Engineering Award. This award—a gift from Ole Jensen, DDS, MS, a world-renowned oral surgeon and innovative businessman—was established "to recognize an individual (anywhere in the world) for sustained scientific contributions, translational impact towards clinical realization, and professional distinction in the field of tissue engineering and regenerative medicine." Dr. Badylak will receive his award during the upcoming TERMIS-AM Meeting in Toronto between July 10-13, 2022.
Dr. Badylak's greatest contributions to the science of bioengineering and medicine, as well as the practice of medicine, are his pioneering efforts in the late 1980's and early 1990's in the development, commercialization, and clinical application of biologically derived materials to form surgical meshes, powders, and hydrogels that promote constructive and functional tissue repair. His core technology has resulted in more than 70 issued US patents and is the basis of more than 100 FDA-approved medical devices that are used in every major body system. More than 13 million patients have been treated with, and benefited from, his work to date.
Dr. Badylak has been referred to as the "father of biologic scaffolds—particularly those composed of extracellular matrix (ECM). Since his early discoveries in the late 1980's to the present day, he has challenged existing concepts of tissue repair and identified key physical and molecular signals that influence the host-wound healing response. He was the first in the field of regenerative medicine to emphasize the importance and relevance of the immune system in both tissue/organ development and in the successful and functional outcomes that result from biomaterial approaches to tissue repair. He is internationally recognized for his contributions and has successfully translated the use of such materials for treating unmet medical problems such as volumetric muscle loss and esophageal cancer. He has also edited two textbooks based upon the mammalian response to such translational biomaterials: "The Host Response to Biomaterials" and "Immunomodulatory Biomaterials".
In addition to holding over 70 issued US patents, Dr. Badylak holds 400 patents worldwide and has authored more than 400 scientific publications and 60 book chapters. Dr. Badylak has a Scopus H-index of 114, a testament to the impact of his work upon both the medical field and basic science. He is passionately committed to seeing his emerging technologies become clinically available. He has served as the Chair of the Study Section for the Small Business Innovative Research (SBIR) at the National Institutes of Health (NIH), and as chair of the Bioengineering, Technology, and Surgical Sciences (BTSS) Study Section at NIH and is now a member of the College of Scientific Reviewers. Dr. Badylak has either chaired or been a member of the Scientific Advisory Board to several major medical device companies and has been the founder of two medical device companies: ACell, Inc., (now part of Integra) and ECM Therapeutics, Inc., the latter which is actively developing products in several different clinical markets including gastrointestinal, musculoskeletal, cardiovascular, and the central nervous system.
Dr. Badylak is currently a Professor in the Department of Surgery, University of Pittsburgh, with a secondary Professorship in the Department of Bioengineering. Dr. Badylak also serves as the  Director of the Center for Pre-Clinical Tissue Engineering within the McGowan Institute.
Congratulations, Dr. Badylak!
Read more…