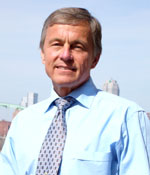 Stephen Badylak, DVM, PhD, MD, professor of surgery and bioengineering at the University of Pittsburgh and deputy director of the McGowan Institute of Regenerative Medicine, has been named among 148 renowned academic inventors elected as fellows of the National Academy of Inventors (NAI).
Election to NAI Fellow status is the highest professional distinction accorded solely to academic inventors who have demonstrated a prolific spirit of innovation in creating or facilitating outstanding inventions that have made a tangible impact on quality of life, economic development, and the welfare of society. Academic inventors and innovators elected to the rank of NAI Fellow status have been nominated by their peers for outstanding contributions to innovation in areas such as patents and licensing, innovative discovery and technology, significant impact on society, and support and enhancement of innovation. The Fellows Induction Ceremony will be held on April 11, 2019, at Space Center Houston in Houston, Texas.
"Dr. Badylak is a pioneer in the field of regenerative medicine and has perfected the blueprint for successful innovation at Pitt," said Evan Facher, PhD, vice chancellor for innovation and entrepreneurship at the University of Pittsburgh and director of the Pitt Innovation Institute. "His balanced pursuit of basic scientific discovery and achieving impact through the commercialization of his lab's discoveries has resulted in therapies that have improved the lives of millions of people and are poised to impact millions more."
Dr. Badylak holds 64 issued patents across the fields of biomaterials, medical devices and tissue engineering, and has filed 18 more. He has prioritized clinical translation of his ideas, resulting in more than 40 of his patents being licensed to industry. He also has assumed the role of chief scientific officer for a new startup company, ECM Therapeutics, based on a group of patents developed in his lab.
Dr. Badylak's discoveries have been translated to medical applications that have helped millions of patients, and his intellectual property has contributed significantly to the multibillion-dollar regenerative medicine industry.
"This acknowledgement is terrific and appreciated, but it should be noted that I'm not the lone named inventor on these patents. There are more than 60 co-inventors," Dr. Badylak said. "This is really a team effort and a testament to the quality of the people working in the lab and their innovativeness and ability to think outside the box. I'm fortunate to work with people like this."
Dr. Badylak's major research interests include:
Tissue engineering and regenerative medicine
Biomaterials and biomaterial/tissue interactions
Developmental biology and its relationship to regenerative medicine
Relationship of the innate immune response to tissue regeneration
Biomedical engineering as it relates to device development and biomaterials
Clinical translation of regenerative medicine
With the election of the 2018 class, there are now more than 1,000 NAI Fellows, five of them from the University of Pittsburgh. The collective issued U.S. patents held by all NAI Fellows totals more than 35,000. The 2018 NAI Fellows will be highlighted with a full-page announcement in the Jan. 25, 2019, issue of The Chronicle of Higher Education and in coming issues of Technology & Innovation.  The complete list of NAI Fellows is available on the NAI website.
Congratulations, Dr. Badylak!
Read more…