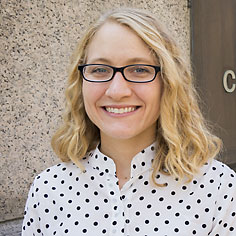 McGowan Institute for Regenerative Medicine affiliated faculty member Stefanie Sydlik, PhD, Associate Professor of Chemistry and Biomedical Engineering at Carnegie Mellon University (CMU), was named a member of CMU's inaugural class of Tartans on the Rise.  Tartans on the Rise celebrates recent alumni who are making an impact in their organizations and in their communities, across the nation and around the world through leadership, innovation, and career achievements. This year's Tartans on the Rise class represents a diverse and talented alumni body that is working to elevate industries, communities, and people everywhere.
Dr. Sydlik is regenerating bones and ending lead poisoning with chemistry. "I was researching how I could fix my own shoulder and became intrigued with biomedicine: that's now my research passion," she says.
The passion is paying off with recognition, as Dr. Sydlik has been named as an American Chemistry Society Division of Polymeric Materials: Science and Engineering Young Investigator and a member of the World Economic Forum's Community of Young Scientists for her exciting work using chemistry to reprogram the healing process in our bodies.
Her interdisciplinary work focuses on the chemical bonds our bones make when growing or healing, with the goal of enabling bones to regenerate after injuries. Dr. Sydlik chemically transforms graphite to form a scaffold that guides bones' regrowth, and chemistry that instructs the bones to bond and fill in where necessary. This approach allows the body to literally regenerate bone and could ultimately replace the use of titanium plates — resulting in stronger structural integrity, greater mobility, and the ability to accommodate children's growing bodies.
The chemistry also works in reverse. Using the same general principles, her process can remove another substance: lead. The process that releases healing signals in bone can be reversed to search out lead, bond with it, and remove the materials from the body. Her startup company BioBind is working on this therapy. It has great promise for children, who often suffer the most adverse impacts from exposure to lead, with the most limited options for therapy.
"Treating childhood lead poisoning is not so much a medical problem as a public health problem," she says. "It was really exciting to realize that as a chemist, I could have an impact on these huge, societal problems."
Congratulations, Dr. Sydlik!
Read more…