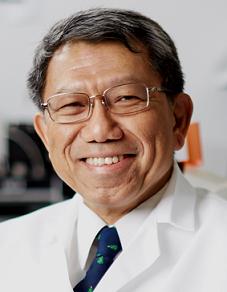 McGowan Institute for Regenerative Medicine affiliated faculty member Rocky Tuan, PhD, Vice-Chancellor and President, the Lee Quo Wei and Lee Yick Hoi Lun Professor of Tissue Engineering and Regenerative Medicine, The Chinese University of Hong Kong (CUHK), has been named a 2021 Fellow of the Orthopaedic Research Society (ORS). Being one of the first scholars in Hong Kong to earn this prestigious honor, Dr. Tuan is recognized by the ORS for his outstanding achievements in the field of musculoskeletal research and contributions to the ORS.
Specializing in skeletal tissue engineering and regeneration, Dr. Tuan has a distinguished research track record that covers basic science and engineering, as well as translational and clinical applications. He has integrated "smart" biomaterial and bioengineering technologies with stem cells to develop translational applications for the repair and regeneration of human tissues. He has recently engineered the first-ever "microJoint," a three dimensional joint-on-a-chip, to replicate a human joint using a microbioreactor platform, which will be used to study and screen for potential therapeutic agents for debilitating joint diseases, such as osteoarthritis.
The 2021 ORS Fellowship adds to a number of honors Dr. Tuan has received, including fellowship of the American Institute of Medical and Biological Engineering (AIMBE) in 2000, the International Combined Orthopaedic Research Societies (i-CORS) in 2016, the National Academy of Inventors (NAI) in 2017, the Chinese Association of Inventions (CAI) in 2018, and the American Association of Anatomists (AAA) in 2019. In particular, Dr. Tuan was the recipient of the Marshall Urist Award for Excellence in Tissue Regeneration Research of the ORS in 2004. A long-term member of the ORS, he also chaired the Editorial Advisory Board of the Journal of Orthopaedic Research, the official publication of the ORS, from 1998-2006.
Dr. Tuan said, "I am honored to be selected as a Fellow of the ORS, the leading organization in the field of orthopaedic research. I hope my experience in the orthopaedic research community can help foster and guide cross-regional and interdisciplinary collaborations, to cultivate knowledge and advance technological innovations in Hong Kong and worldwide for the improvement of human health."
For over 65 years, the ORS has been the leading research society supporting biologists, clinicians, engineers, orthopaedic surgeons, and other professionals in the field of musculoskeletal research from across the globe.  ORS Fellows are the longstanding members who have demonstrated exemplary service and leadership, substantial achievement, expert knowledge, and significant contributions to the ORS, its governance, and the field of musculoskeletal research. Fellows will represent ORS as the thought leaders and topic experts in their respective disciplines.
Congratulations, Dr. Tuan!
Read more…
The Chinese University of Hong Kong News Release