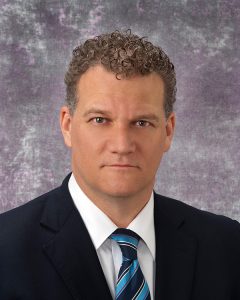 McGowan Institute for Regenerative Medicine affiliated faculty member Peter Wearden, MD, PhD (pictured), was named one of Orlando's 2022 Finest Doctors in the category of Pediatric Cardiac Surgery. Dr. Wearden is the Director Nemours Cardiac Center—Florida, Chair, Department of Cardiovascular Surgery, and Chief, Cardiothoracic Surgery, at the Nemours Children's Hospital, Orlando, Florida.
Dr. Wearden graduated from Georgetown University with honors and then received his MD from West Virginia University School of Medicine, and then his PhD also from West Virginia University in Pharmacology and Toxicology. During his post-graduate studies, he held positions which included being a Resident in the Cardiothoracic Surgery Department at the University of Pittsburgh Medical Center and held several positions at West Virginia University School of Medicine which included Chief Resident in Surgery, Senior Surgical Resident, Research Associate, Intern and Junior Surgical Resident, and Research Assistant. In 2005 he completed a clinical fellowship in pediatric cardiac surgery at The Hospital for Sick Children, Toronto, Canada.  Prior to joining Nemours, Dr. Wearden was an Associate Professor in the Department of Cardiothoracic Surgery at the University of Pittsburgh School of Medicine. At Children's Hospital of Pittsburgh of UPMC, Dr. Wearden served as the Surgical Director of Heart, Lung, and Heart/Lung Transplantation and the Director of Mechanical Cardiopulmonary Support.
Orlando Magazine Premier Doctors list was assembled by DataJoe Research, a software and research company specializing in data collection and verification that conducts various nominations across the United States on behalf of publishers. DataJoe Research used an online peer-voting process and reached out to medical groups and individual doctors to facilitate participation, while also referencing other government and Internet sources to establish credibility/eligibility of doctors. DataJoe then tallied the results to score doctors in each category and confirmed that each winning candidate had a current, active license status with the state regulatory board.
Congratulations, Dr. Wearden!
Read more…