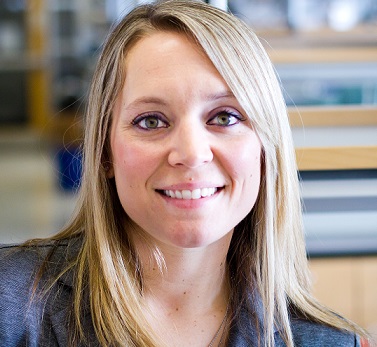 The Innovation Institute celebrated the University of Pittsburgh faculty, students and staff who are working to make their ideas and research discoveries have a real-world impact at the 14th Annual Celebration of Innovation, on November 20 at the Petersen Events Center Campus View Club.
During this celebration, McGowan Institute for Regenerative Medicine affiliated faculty member Morgan Fedorchak, PhD, assistant professor of ophthalmology, bioengineering, chemical and petroleum engineering, and clinical and translational science, received the 2019 Emerging Innovator Award.  This honor is presented to an early- to mid-career faculty member who has shown a keen interest in innovation commercialization and is dedicated to achieving impact through commercial translation of research.
Dr. Fedorchak leads the Ophthalmic Biomaterials Laboratory. In her lab's first four years, it has demonstrated an intense focus on translational science and has launched two projects on a commercialization pathway. She has taken advantage of a range of educational programming and funding opportunities to move her innovations from the lab towards the market. These include the First Gear commercialization program, the Michael G. Wells Competition, and Chancellor's Innovation Commercialization Funds, as well as consulting regularly with licensing managers and entrepreneurs in residence.
Congratulations, Dr. Fedorchak!
Read more…
University of Pittsburgh Swanson School of Engineering News Release (w/video)