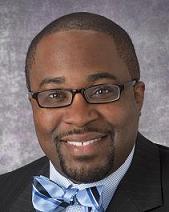 Foot and ankle orthopaedic surgeon, UPMC Vice Chair and Residency Program Director, and McGowan Institute for Regenerative Medicine affiliated faculty member MaCalus Hogan, MD, MBA, has been installed as a member-at-large for the Orthopaedic Foot & Ankle Foundation Board of Directors. The Foundation is the philanthropic arm of the American Orthopaedic Foot & Ankle Society (AOFAS)® that advances the Society's mission by funding and promoting education, research, and humanitarian endeavors.
"With the evolving dynamics of healthcare, it is an honor to contribute to the mission of the Orthopaedic Foot & Ankle Foundation Board of Directors," said Dr. Hogan. "I am looking forward to being a part of the Board's efforts and progress in the days ahead."
Dr. Hogan earned his medical degree from Howard University College of Medicine in Washington, D.C., and his Master of Business Administration degree from University of Pittsburgh Joseph M. Katz School of Business. He completed his orthopaedic surgery residency at the University of Virginia Medical School in Charlottesville, and a fellowship in foot and ankle surgery at Hospital for Special Surgery in New York.
Dr. Hogan began his involvement with the AOFAS in 2010 as a participant in the AOFAS Resident Scholarship Program. In 2017, he received funding through the AOFAS Research Grants Program for his project entitled, "The Role of the Syndesmosis in Ankle Joint and Tibiofibular Kinematics." He is a two-time recipient of the prestigious AOFAS J. Leonard Goldner Award for best basic science research, earning the honor in 2013 and 2020.
Read more…