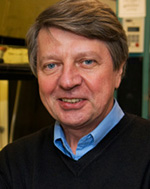 McGowan Institute for Regenerative Medicine affiliated faculty member Krzysztof Matyjaszewski, PhD, J.C. Warner Professor of Natural Sciences at Carnegie Mellon University and served as the head of the Chemistry Department, has been admitted to the Australian Academy of Science as a Corresponding Member for his outstanding scientific contributions.  His fundamental contributions have changed the face of free radical chemistry and polymer science.
In 1994, Dr. Matyjaszewski invented a method of polymerization—a chemical reaction to produce long chain-like molecules—using a copper catalyst. Called atom transfer radical polymerization (ATRP), Dr. Matyjaszewski's method has spawned a prolific area of research and several industry developments, including the commercial production of specialty materials.
Corresponding Members of the Academy are eminent scientists not resident in Australia. They are elected based on scientific excellence, with consideration given to their connection to Australian science.
Congratulations, Dr. Matyjaszewski!
Read more…