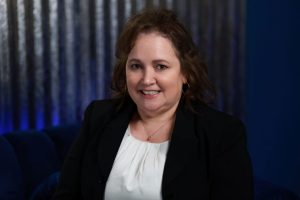 Kacey Marra, PhD, McGowan core faculty and Professor in the Departments of Plastic Surgery in the School of Medicine (primary) and Bioengineering in the School of Engineering (secondary) as well as Vice Chair of Research for the Department of Plastic Surgery at the University of Pittsburgh, is the recipient of the 2023 Washington County ATHENA Leadership Award.
Supported by the Washington County Chamber of Commerce and sponsored by Crown Castle, Range Resources, and Ironbridge Wealth Counsel, the ATHENA Leadership Award is in its twentieth year of celebrating and honoring women leaders.
"This award promotes leadership by honoring exceptional individuals in the community who contribute in significant ways to the achievements of women and women's leadership efforts," said Jeff Kotula, president of the Washington County Chamber of Commerce.
Dr. Marra's medical device company, Nerve Repair Technologies, was highlighted at the award ceremony. Nerve Repair Technologies focuses on nerve repair and nerve guide fabrication. Among other innovations, Dr. Marra and her team have developed and patented a nerve guide composed of biodegradable, FDA-approved polymers and bioactive factors that will stimulate axon growth.
Dr. Marra was also honored for mentoring over 300 high school, college, graduate, and medical school students.
Congratulations, Dr. Marra!
Image courtesy of Observer-Reporter.