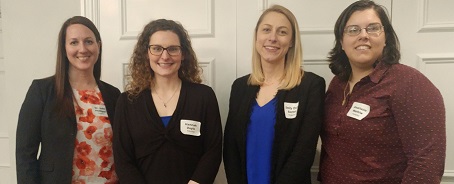 As pioneers in the field of regenerative medicine, McGowan Institute for Regenerative Medicine faculty and staff are both obligated and delighted to contribute to the growth of the field by participating in the career development of young scientists.  McGowan Institute for Regenerative Medicine faculty member Julie Phillippi, PhD, Assistant Professor in the Department of Cardiothoracic Surgery, School of Medicine, with a secondary appointment in the Department of Bioengineering, Swanson School of Engineering, recently participated in a panel discussion for sophomore and junior girls from the Fox Chapel Area High School sponsored by the American Association of University Women (AAUW).  Students were encouraged to interact with Dr. Phillippi and other panel experts in an effort to expand their horizons while considering career options.
For their academic achievements in STEM fields, these young female students were honored by the AAUW.  The girls were lauded during the ceremony at Fox Chapel Presbyterian Church by AAUW members from its Fox Chapel branch.
AAUW has a long history of opening doors for women and girls in science, technology, engineering, and mathematics (STEM), from the classroom to Capitol Hill.  The STEM fields are rapidly becoming the most in-demand and lucrative in the world. Despite this demand, at almost every step of the STEM education path women and girls walk away. By middle school many girls are ambivalent toward these fields, and by the end of high school fewer girls than boys plan to pursue STEM studies in college.
Illustration:  Dr. Julie Phillippi (far left) and fellow panelists.
Read more…