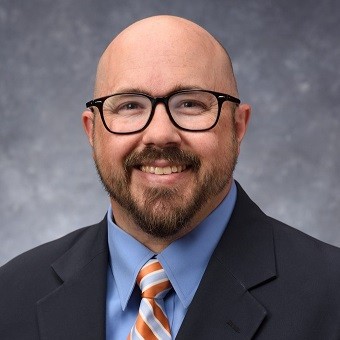 McGowan Institute for Regenerative Medicine affiliated faculty member and Professor of Bioengineering Jonathan Vande Geest, PhD, was elected Fellow of the American Society of Mechanical Engineers (ASME), recognizing his "exceptional engineering achievements and contributions to the engineering profession and to ASME." This election puts him in company with the 3,462 other Fellows of ASME, an organization with nearly 80,000 members.
Dr. Vande Geest directs the Soft Tissue Biomechanics Lab at the University of Pittsburgh's Swanson School of Engineering. The goal of their work is to develop and utilize novel experimental and computational bioengineering approaches to study the structure-function relationships of soft tissues in human growth, remodeling, and disease. The results of this research are then used to understand human disease and develop innovative medical devices and drug therapies.
He earned his BS in biomedical engineering from the University of Iowa in 2000 and his PhD in bioengineering from Pitt in 2005. He received his first academic appointment at the University of Arizona in the Department of Aerospace and Mechanical Engineering and later joined their Department of Biomedical Engineering in 2009. He returned to Pitt as Professor in the Department of Bioengineering in January 2016.
A member since 2000, Dr. Vande Geest has a long history with ASME. In 2013 he received the Y. C. Fung Young Investigator Award – a society-wide medal awarded by the Bioengineering Division of ASME to recognize those demonstrating significant potential to make substantial contributions to the field of bioengineering. He chaired the ASME Biosolids Technical Committee from 2016-2019 and more recently chaired two ASME-sponsored virtual summer bioengineering meetings in 2020 and 2021.
As part of this election, ASME recognized "his service to the field of bioengineering; contributions in aneurysm, glaucoma, and vocal fold paralysis research; and leadership in ASME's Bioengineering Division."
In addition to being a Fellow of ASME, Dr. Vande Geest also became a Fellow of the American Institute for Medical and Biological Engineering in 2018. He is a member of the Biomedical Engineering Society, the International Society of Applied Cardiovascular Biology, the Association of Research in Vision and Ophthalmology, the American Heart Association, and the American Physiological Society.
Dr. Vande Geest also holds appointments in Pitt's Department of Mechanical Engineering and Material Science, Department of Ophthalmology, Louis J. Fox Center for Vision Restoration, and Vascular Medicine Institute.
"I am proud to have nominated Dr. Vande Geest for this well-deserved honor," said David Vorp, PhD, Associate Dean for Research and John A. Swanson Professor of Bioengineering at Pitt, who is also a Fellow of ASME and an affiliated faculty member of the McGowan Institute. "He is not only a leader of impact in the field of bioengineering and biomechanics, but a wonderful colleague and Pitt faculty member as well. His career trajectory is certainly one that will be associated with many other awards and honors in the future."
Congratulations, Dr. Vande Geest!
Read more…
University of Pittsburgh Swanson School of Engineering News Release