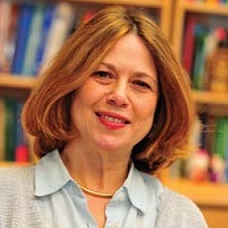 The 15th Annual Kadir Has Awards were held on Friday, March 22, 2019, in Istanbul, Turkey. Member of the Science Academy, Ivet Bahar, PhD, received the "Kadir Has" Outstanding Achievement Award for her contributions to the development of theoretical and computational models for explaining the functional dynamics of biomolecular systems as well as mentoring and teaching a new wave of scientists. She was presented with the award by the Chairman of the Board of Trustees of Kadir Has University, Mr. Nuri Has, the Kadir Has Foundation President, Mr. Can Has, and the President of Kadir Has University, Dr. Sondan Durukanoglu Feyiz.
The Kadir Has Awards seek to recognize the outstanding accomplishments that Turkish scientists have made at the national and international level and to promote people and institutions that have contributed to the development of society.
Dr. Bahar is a Distinguished Professor, the John K. Vries Chair, and the Founding Chair in the Department of Computational and Systems Biology at the University of Pittsburgh's School of Medicine.  Dr. Bahar holds several other affiliations, including Director/Principal Investigator of three NIH-funded Centers, NIGMS Biomedical Technology and Research Center on Multiscale Modeling of Biological Systems (MMBioS), NIDA Center for Computational Drug Abuse Center (CDAR), and BD2K Center for Causal Modeling. She is an Associate Director at the University of Pittsburgh Drug Discovery Institute; the Founder and Executive Committee Member of Carnegie Mellon University/Pitt PhD Program in Computational Biology.  Dr. Bahar is also an affiliated faculty member of the McGowan Institute for Regenerative Medicine.
Congratulations, Dr. Bahar!
Read more…
University of Pittsburgh School of Medicine Computational and Systems Biology News