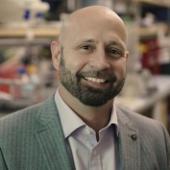 Congratulations to McGowan Institute for Regenerative Medicine affiliated faculty member Hēth Turnquist, PhD (pictured), associate professor in the University of Pittsburgh School of Medicine, Department of Surgery, Thomas E. Starzl Transplantation Institute, with a secondary appointment in the Department of Immunology, who received the 2022 AST Basic Science Investigator Award. AST, the American Society of Transplantation, is dedicated to advancing the field of transplantation and improving patient care by promoting research, education, advocacy, organ donation, and service to the community. Dr. Turnquist received this award as a mid-career investigator who has made substantial contributions to the field of transplantation medicine. He received this recognition during the AST Awards Ceremony during the American Transplant Congress in Boston, Massachusetts.
Dr. Turnquist's current research focus is Cytokine and Regulatory Cell Networks in Transplantation.  Transplantation of genetically dissimilar (allogeneic) cells, organs, and composite tissues is a transformative procedure used to prolong and improve quality of life. Yet, these foreign materials initiate alloreactive immune responses. These pathogenic immune responses mediate destruction of transplanted tissues or alternatively, attack host tissues. The present answer to combat alloimmunity is global immune suppression, which is only partially effective and associated with morbidity- and mortality-causing toxicities and complications.  Research in the Turnquist Lab aims to elucidate novel endogenous immunoregulatory mechanisms that can benefit transplant recipients by providing alternatives to non-specific immunosuppressants.
Congratulations Dr. Turnquist!
Read more…