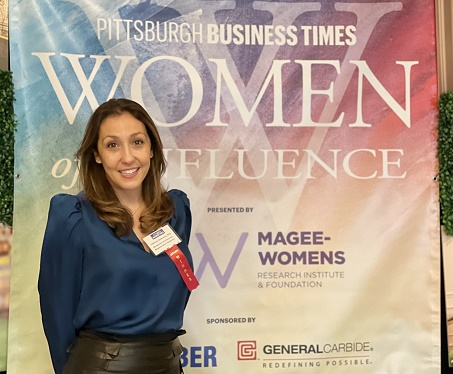 Presented by the Pittsburgh Business Times, the 2021 Women of Influence Awards honor the region's most influential businesswomen at for-profit companies, nonprofits, and government entities. This year, McGowan Institute for Regenerative Medicine faculty member Fabrisia Ambrosio, PhD, MPT, was one of the women honored as Women of Influence. The awardees are women who are effective in their communities, blazed a trail for others, and are leaving an indelible mark on business in Greater Pittsburgh. This year's presentation event took place on October 6, 2021.
Dr. Ambrosio is an associate professor in the Department of Physical Medicine & Rehabilitation at the University of Pittsburgh, and Director of Rehabilitation for UPMC International. She holds secondary appointments in the Departments of Physical Therapy, Orthopaedic Surgery, Bioengineering, Environmental Health & Occupational Safety, as well as Microbiology & Molecular Genetics at the University of Pittsburgh, and she serves on the Executive Committee of the McGowan Institute for Regenerative Medicine.
Dr. Ambrosio was the first to identify the potential benefits of "marrying" regenerative medicine and rehabilitation, and it is now a rapidly growing approach to patient care.  Her research has the long-term goal of developing Regenerative Rehabilitation approaches to improve skeletal muscle healing and functional recovery of tissue impacted by trauma, disease, or surgery.  Her
laboratory investigates the underlying mechanisms by which mechanical and electrical signals can be used to enhance donor and/or host stem cell functionality in mouse and human models. Her research has received numerous awards, including, most recently, "Best Paper of the Year" awards both in 2017 and 2018.
One example of Dr. Ambrosio's pioneering research is a recently issued study report that offers  significant potential enhancement in the quality of life while we age.  The study reveals which molecules in the muscle are most significantly altered at different life stages, and shows that a molecule called Klotho, when administered to mice in old, but not very old age, was able to improve muscle strength.
Age-related loss of skeletal muscle mass and function – called sarcopenia – is associated with loss of mobility and increased risk of falls.  Dr. Ambrosio and her team looked at whether giving the mice Klotho could reverse age-related declines in muscle quality and function. They found that Klotho administration led to improvements in the old mice: force production was improved by 17% when supporting whole body weight and was 60% greater compared to mice without treatment. But this was only seen in the old mice, and not in the oldest-old animals. Further investigation showed that Klotho affected genes associated with the hallmarks of aging in all age groups, but that the oldest-old mice showed a dysregulated gene response.
Her data suggests that treatment with Klotho may be more effective in slowing the progression of sarcopenia at an earlier time point, rather than rescuing advanced age-related disease, by which time the gene responses seem to be more random.
Through her founding the new field of Regenerative Rehabilitation, which is non-profit centered as it is a consortium of non-profit institutions, she has had a significant impact on non-profits.  It is noteworthy that she has established Pittsburgh as the epicenter of this new field.
Finally, as a female researcher of Latina descent, Dr. Ambrosio is particularly interested in mentoring women and under-represented minorities (URMs). Her commitment to this objective is highlighted by her leadership, programmatic efforts, and research endeavors.
A major focus of Dr. Ambrosio's programmatic efforts has been to encourage the participation of URMs in science and technology training programs. For example, in 2015, Dr. Ambrosio served as co-course director of the NIH-funded Rehabilitative and Regenerative Medicine for Minority Health & Health Disparities (ReMedy). ReMedy was a T15 advanced training course designed to recruit URMs and provide hands-on introduction to research strategies and state-of-the-art methods in bioengineering as well as cellular, molecular, and genetic approaches for advancing the frontiers in Regenerative Rehabilitation. Working in close partnership with historically black universities, this course included >80% URM trainees.
More recently, Dr. Ambrosio has used her leadership role as Director for the Alliance for Regenerative Rehabilitation Research & Training (AR3T) Center to promote inclusion in the domain of Regenerative Rehabilitation. Specifically, Dr. Ambrosio has implemented a diversity travel award mechanism that executes targeted efforts to recruit URMs to AR3T events and programs, such as the Annual Symposium for Regenerative Rehabilitation and sabbatical opportunities.
As a result of these efforts, AR3T has enjoyed participation of an average of 15% URMs across the Center's programs. Dr. Ambrosio also recognizes that efforts to promote inclusion must be a priority for all trainees and investigators, regardless of one's own race or ethnicity. With the goal of facilitating a community-wide dialogue to identify steps that will promote the participation of URMs, in 2019, Dr. Ambrosio organized and led a "diversity breakfast" at the 8th Annual Symposium for Regenerative Rehabilitation. This breakfast, which included approximately 50 participants, was designed to serve as a forum for the exchange of ideas and experiences as they relate to diversity. The enthusiasm for the breakfast was such that it has now become an annual component of the Symposium series, for which Dr. Ambrosio serves as Course Director.
Honorees for the Women of Influence award were selected from a public pool of nominations and determined by a panel of judges made up of program alumnae. Nominees were women from every industry and profession — those with a strong record of performance in business or at nonprofits who had influence in their communities and are leaving their mark on the western Pennsylvania business community.
Congratulations, Dr. Ambrosio!