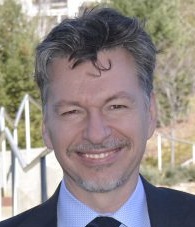 One of the world's most prestigious academic medical journals announced recently that it is strengthening its editorial team with expertise from UPMC and the University of Pittsburgh School of Medicine.
Derek Angus, MD, MPH, chief health care innovation officer at UPMC and professor and chair of the Department of Critical Care Medicine at Pitt, will become a senior editor at the Journal of the American Medical Association (JAMA).  Dr. Angus is also an affiliated faculty member of the McGowan Institute for Regenerative Medicine.
"Derek is among the most prominent ICU physicians in the world and has helped JAMA recruit the best papers in this specialty," said Howard Bauchner, MD, JAMA's editor-in-chief.
Dr. Angus joined UPMC and Pitt in the early 1990s after earning his medical degree and completing residency training in internal medicine at the University of Glasgow, UK. His specialties include epidemiologic, economic and health services research aspects of critical illness, with a particular focus on improving randomized control trials to better serve the sickest of the sick. He has authored or co-authored hundreds of papers and abstracts and received several awards and honors nationally and internationally for his research.
"Serving as an associate editor at JAMA has been a professional honor and delight," said Dr. Angus. "It has introduced me to the physicians and scientists who are transforming the way we care for patients and prevent disease. I look forward to my new role as senior editor."
Read more…