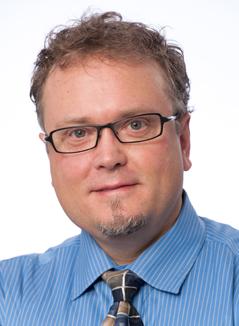 The Association of Public and Land-Grant Universities (APLU) Council on Research (CoR) has named McGowan Institute for Regenerative Medicine affiliated faculty member David Vorp, PhD, as one of eight fellows in its third Research Leader Fellowship Program cohort selected nationwide. Dr. Vorp is Associate Dean for Research for Pitt's Swanson School of Engineering, the John A. Swanson Professor of Bioengineering, and Professor of Cardiothoracic Surgery, Surgery, Chemical & Petroleum Engineering, and the Clinical and Translational Sciences Institute.
According to APLU, the CoR Research Leadership Program is designed to provide training and skill development necessary in the breadth and depth of the academic research enterprise. The APLU notes that because many universities have segmented research support organizations, rising research leaders often oversee relatively confined areas such as research administration, research development, research compliance, research communication, economic development, or sponsored programs.
The APLU CoR Fellowship is designed to allow rising research leaders to gain expertise outside of their respective portfolios and to foster connections with CoR's extensive network of senior research officers through site visits and participation in CoR meetings. The fellowship is 18 months in duration.
"This is a tremendous opportunity for me that I will ensure also greatly benefits Pitt and the Swanson School," Dr. Vorp said. "In the past few years we have expanded and diversified our research portfolio, increased our public-private research partnerships through the creation of our Making Research Work initiative, and more. But there is so much more that we can do, and I'm excited to see up-close the best practices and novel programs developed by other research universities and learn from the best minds in the business."
During his fellowship, Dr. Vorp intends to focus on working more closely with Pitt's Office of Community and Governmental Relations; integrating research data and analytics into proactive planning and research portfolio management; and developing more sustainable revenue models for the Swanson School's several research centers and institutes. He also plans to investigate how the Swanson School can play a greater role in regional economic development as well as develop stronger multidisciplinary and sponsored research programs.
Congratulations, Dr. Vorp!
Read more…
University of Pittsburgh Swanson School of Engineering News Release