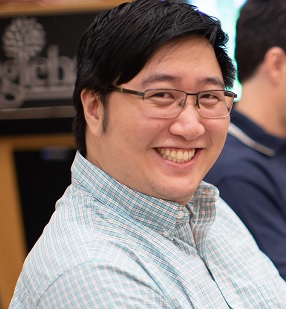 According to the American Cancer Society, kidney cancer is among the top ten most common cancers in men and women. More than 73,000 new cases and nearly 15,000 deaths are predicted for in the US for 2020. Clear cell renal cell carcinoma (ccRCC) — the most common subtype of tumor associated with kidney cancer — accounts for more than 75 percent of cases.
David Gau, PhD, a postdoctoral researcher at the University of Pittsburgh, will use a fellowship from the National Cancer Center to study the role of a protein in ccRCC progression. He will work with McGowan Institute for Regenerative Medicine affiliated faculty member Partha Roy, PhD, associate professor of bioengineering in the Swanson School of Engineering, and Walter Storkus, PhD, professor of dermatology and immunology in the School of Medicine.  Dr. Gau worked as a Postdoctoral Associate in the Cell Migration Laboratory of Dr. Roy.
"Twenty to thirty percent of patients with clear cell renal cell carcinoma will have cancer metastasis by the time of diagnosis and a third of those treated will have recurrence," said Dr. Gau. "Our lab wants to look at the underlying mechanisms associated with this disease so that we can help develop more effective treatments."
A common theme of this type of cancer is the highly vascularized nature of the tumor environment, that is, an abundance of blood vessels in the tumor area. In this project, the research group will look at how to control a process called angiogenesis – the formation of new blood vessels.
"Anti-angiogenic treatments to limit vessel formation in the tumor initially work well in patients, but many will have cancer progression due to innate resistant mechanisms to current anti-angiogenic agents," explained Dr. Gau. "We want to evaluate the role of the protein Profilin1 in ccRCC progression."
According to Dr. Gau, current research suggests that increased Profilin1 expression in ccRCC is correlated with poor patient prognosis, and preliminary data suggests that it plays a key role in vessel formation, which would make it a candidate for a potential new therapeutic target.
"Our lab has previously developed Profilin1 inhibitors, which will also be tested as a potential therapy for kidney cancer," he said. "Completion of this project would demonstrate direct impact of Profilin1 and regulation of vessel formation in clear cell renal cell carcinoma and provide foundational evidence for targeting Profilin1 as a potential treatment for kidney cancer."
Illustration:  University of Pittsburgh Swanson School of Engineering.
Read more…
University of Pittsburgh Swanson School of Engineering News Release