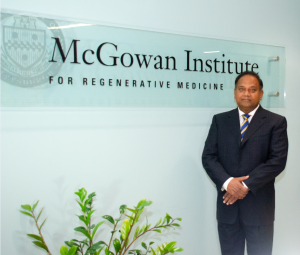 Effective September 1, 2023, Chandan K. Sen, MS PhD, will serve as Director of the McGowan Institute of Regenerative Medicine. He also serves as associate vice chancellor for life sciences innovation and commercialization for Pitt Health Sciences and as an endowed professor of surgery in the School of Medicine. Dr. Sen is also the Chief Scientific Officer of the wound care service line of the University of Pittsburgh Medical Center. In partnership with the department of plastic surgery, he will provide leadership to the newly formed Pitt McGowan Wound Research Consortium across 20 UPMC outpatient wound clinics statewide. This will also be the Pennsylvania home of the NIH's national Diabetic Foot Consortium of which Dr. Sen is the national vice chair. Dr. Sen is also known for the in vivo tissue reprogramming tissue nanotransfection (TNT) technology reported by his team and funded by multiple NIH and DoD grants.
"Embracing the legacy of innovation and fueled by the passion of our dedicated researchers and partners, I am humbled to lead the McGowan Institute of Regenerative Medicine into a future where scientific boundaries are mere milestones, and seeding the healthcare of the future becomes an art of possibilities. Together, we shall weave the threads of discovery, compassion, and collaboration, sculpting a tapestry of hope for generations to come." – Chandan K Sen
The University of Pittsburgh Senior Vice Chancellor for the Health Sciences and Dean of the School of Medicine, Dr. Anantha Shekhar formally introduced Dr. Sen and his team to the McGowan Institute for Regenerative Medicine community on Monday, August 28, 2023.