By Cristina D'Imperio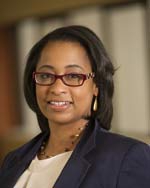 Cecelia C. Yates, PhD, core faculty at the McGowan Institute for Regenerative Medicine, is the recipient of the 2024 ASIP Marilyn G. Farquhar Early Career Award for Exceptional Achievement in the Advancement of Women in Experimental Pathology.
The award recognizes individuals who demonstrate exceptional achievement in the advancement of women experimental pathologists during the early phases of their careers. Achievements include training and mentoring women in experimental pathology, leadership within the field of experimental pathology, service to the community in the promotion of science, innovation in the recruitment and retention of women in experimental pathology, and contributions to the Society.
In its recognition of Dr. Yates' work, the American Society for Investigative Pathology (ASIP) states:
Dr. Yates is one of the first experimental pathologists in the country to hold a primary appointment in a school of nursing…. Her laboratory has been a resource used by over 30 nurse scientists in learning, training, and collecting data using a cellular and molecular pathology translational approach. Dr. Yates…has shown a great interest in preparing and educating the next generation of researchers and scientific innovators [by mentoring] over 50 scholars, including Junior Faculty, Ph.D. and post-doctoral fellows, residents, nursing, medicine, pharmacy, dental medicine, health and rehabilitation, engineering, pathology scholars, and graduate and undergraduate research students at the University of Pittsburgh and institutions nationally.
Additionally, Dr. Yates participates in the School of Nursing Undergraduate Research Mentorship Program (URMP), and she is the Co-Director of the University of Pittsburgh Clinical and Translational Science Fellowship Program (NIH CTSA-TL1) where she mentors pre- and post-doctoral fellows from over eight disciplines.
Dr. Andrew Duncan, a fellow McGowan core faculty member and Associate Professor, Department of Pathology at the University of Pittsburgh, commended Dr. Yates and noted her dedication to mentoring in his letter of nomination: "She is an outstanding mentor because she listens, cares, and gives excellent advice. She always seems to know the best action to take now and how to prepare for the future… she is especially interested in helping to support traditionally underrepresented individuals in science, particularly women."
Congratulations, Dr. Yates!