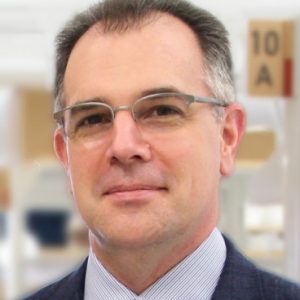 McGowan Institute for Regenerative Medicine affiliated faculty member Bernard Costello, MD, DMD (pictured), has been named the associate vice chancellor for health science integration, which aims to advance interprofessional education among the University of Pittsburgh Schools of the Health Sciences. Dr. Costello was named interim dean of the School of Dental Medicine in February 2018 and in April of that year took on the job permanently.
When Anantha Shekhar, MD, PhD, Senior Vice Chancellor for the Health Sciences, Pitt; and John and Gertrude Petersen Dean, Pitt School of Medicine, noted that at his previous job at Indiana University, a Center for Interprofessional Education was formed in the health sciences to make sure that curriculum in medicine, nursing, public health, dental medicine, and more were "intertwined, so that there were periods when medical students and nursing students and dental school students were all working in teams on certain courses. You learn to respect other providers' schools, as well as work with their students as early as your first and second year in medical school and in nursing school."
In the August 2022 newsletter from the Dental School, Dr. Costello thanked his colleagues "for your incredibly hard work and commitment to advancing the mission of our School. Improving oral and craniofacial health in our region is an incredibly important cause and working with such a special group of people in pursuit of this mission has been both an honor and a pleasure.
Congratulations, Dr. Costello!
Read more…