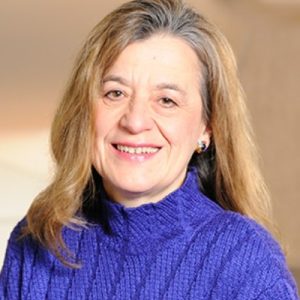 While having a veterinarian father couldn't help but spark the interest of McGowan Institute for Regenerative Medicine affiliated faculty member Anna Balazs, PhD (pictured), in biology and the sciences, inspiration from the natural world also played a profound role in fueling the Hungarian native's career-shaping curiosity. The University Times writer, Shannon Wells, MS, recently spoke with Dr. Balazs, and here is what he learned about the researcher.
"When I was a kid and I looked at a tree trunk or section of a tree, I just couldn't believe how amazingly complex and interesting it was," she recalls. "And I was just wondering, if I got into it more and more, what does the tree trunk — the cross section of the tree trunk — look like as you got to smaller life scales. Because it just looked so beautiful and so amazing and so interesting — and again, you know, led to a tree!"
Dr. Balazs also engaged in a more mundane activity that fired her young imagination — albeit with mixed results.
"My father used to (collect) mechanical pencils. And when I was very young, I would steal them and play with them when I was getting introduced, very simply, to mechanics. And I always broke the pencils," she recalls with a chuckle. "They were expensive mechanical pencils, and I always broke them. But those are the two things that stand out in my mind, just moments where, 'A ha! This is what I like.'"
Dr. Balazs, distinguished professor of chemical engineering at the University of Pittsburgh's Swanson School of Engineering and adjunct professor in the chemistry department, has enjoyed a flurry of accolades in the past two years that complement an already impressive roster of recognition. On the heels of her election to the National Academy of Sciences, Dr. Balazs was named earlier this year to the National Academy of Engineering (NAE). The first Pitt and Swanson faculty member to be accepted into both academies, she will be inducted in early October 2022 along with 111 new NAE members and 22 international members at its annual meeting in Washington, D.C.
The academy accepted Dr. Balazs' membership "in recognition of distinguished contributions to engineering and for creative and imaginative work in predicting the behavior of soft materials that are composed of multiple cooperatively interacting components," the NAE said.
Creative prediction
Those soft materials of interacting components — commonly known as polymers — form the basis of Dr. Balazs' extensive research using "biomimicry," in which elements from nature are emulated to address human- and material-world challenges. Her work in theoretical and computational modeling of polymers has drawn international acclaim, including the American Physical Society's Polymer Physics Prize in 2016. She was the first woman to receive the award.
Not one to crow about such accolades or feel they represent the culmination of what she considers an ongoing quest, Dr. Balazs is nonetheless pleased to be recognized for her creative — and somewhat iconoclastic — approach to polymer and biomimicry research.
"We've always been interested in the delicate line between animate and inanimate," she explains. "Maybe it's a harsh line, but we strive to make that line fuzzy to make materials behave as living systems and with desired properties and specific responses to specific stimuli. So that (accolade), I'm extremely proud of it, because when I was a postdoc … I was always interested in using theory and modeling as a predictive tool. And I always thought the ability to look at systems and make predictions was a very creative act. And that's the part I really loved."
Dr. Balazs' view of theory's role runs somewhat counter to conventional wisdom in the research community. "Some people thought that theory should be used exclusively to explain already-observed experiments, and for me the joy was considering the main material and imagining what could happen under certain circumstances … I think science is very creative."
Two-body, one-city solution
 Born in Hungary to Holocaust-surviving parents, Dr. Balazs channeled her childhood fascination with science and the natural world into physics studies at Bryn Mawr College, where she graduated in 1975. She earned her master's and doctorate degrees in materials science and engineering from Massachusetts Institute of Technology (MIT) in 1981, engaged in post-doctoral research at Brandeis University and worked as a research associate at the University of Massachusetts.
Dr. Balazs describes joining Pitt's faculty in 1987, where she has served as assistant and associate professor and Bicentennial Engineering Alumni faculty fellow, as the result of tackling a "two-body" problem involving her late husband, Steven Levitan, PhD.
"Steven was a graduate scholar at UMass Amherst, and I was in Cambridge. Every weekend it was an hour-and-a-half-, two-hour commute by bus," she explains. "We wanted to be in the same city. So, it was brilliant about recognizing if you solve a two-body problem, you have two very happy and potentially very productive faculty members. And Steven was very happy and very productive."
Dr. Levitan, who was a professor of computer engineering in the Swanson School, died of a heart attack in 2016. He was 65.
Although it's clear that Dr. Balazs doesn't shy away from complexity and deep analysis, her motivation to make a lasting mark in her field comes from a more visceral, emotional place.
"You know, I love to make my mother happy. That's what it means," she says. "I made her happy. It's also the immigrant contract.
"We left Hungary, and I came to the U.S. … My parents sacrificed everything so that I could have this amazing life, and I felt in return, I wanted to show them that I took advantage of it."
Flexibility and failures
McGowan Institute faculty member Steven Little, PhD, distinguished professor and chair of Pitt's Department of Chemical Engineering, benefitted from Dr. Balazs' engaging expertise soon after arriving at Pitt from MIT in 2006.
"Everybody knew Anna, and so it was one of the first connections I made," he recalls. "My very first grant with Anna. I wrote a large NSF multi-PI (principal investigator) proposal, and it was funded on the first try. Part of that had to have been because I did it with Anna."
Dr. Little describes Dr. Balazs as a "tireless researcher" and "a pinnacle of academic productivity."
"She knows what excellence looks like — the definition of it in her field and in engineering as a whole. And she will not settle for less than that," he says. "She is great to have in the department because everybody — especially my assistant professors that I hire — can look at what she does and know what that bar is set at, and they know what it looks like for someone to achieve that level. And that's very valuable to have in any department."
Dr. Balazs credits Dr. Little along with Swanson School Dean Emeritus Gerald Holder and Alan Russell, PhD, former founder and director of the McGowan Institute, for supporting her approach to research. "I couldn't operate without their understanding and their flexibility," she says. "I think Pitt has been particularly fantastic to me for allowing that flexibility."
While enjoying her latest wave of accolades, Dr. Balazs emphasizes that peer recognition in one's field only tells part of the trial-and-error-fueled story.
"I've had 9,000 failures," she admits. "I'm very happy that my successes are celebrated, but we don't mention the 9,000 failures. … You see people and you look at their success and you think, 'Oh my goodness, they've clearly developed a means of being successful.' Yes, but that means of being successful involves failing 9,000 times.
"And I think that's an incredibly important message," Dr. Balazs adds. "We certainly don't celebrate people's failures, but we don't celebrate their attempts either."
Mr. Wells, a native of Charleston, WV, joined the University Times staff early in 2022 as its full-time writer. A longtime journalist and communications specialist, he recently taught journalism courses at West Virginia State University and served as adviser for its student newspaper. He returned to Charleston in 2020 after 14 years in Portland, OR, where he served as executive news editor for three Pamplin Media Group publications and covered news, business, and entertainment reporting beats.
Read more…