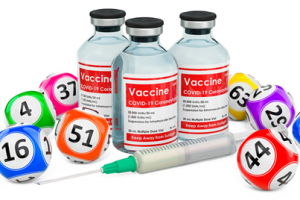 By Cristina D'Imperio
Derek Angus, MD, MPH, FRCP, McGowan affiliated faculty, co-authored a study published this September in JAMA Health Forum.
The study, titled "Weighted Lottery to Equitably Allocate Scarce Supply of COVID-19 Monoclonal Antibody," sought to determine whether a weighted lottery could promote the "equitable allocation of scarce resources to disadvantaged populations" in a large health system.
The study implemented a weighted lottery in a 35-institution health system that spanned parts of Pennsylvania, New York, and Maryland. A total of 10,834 individuals were eligible for the lottery: 16.6% were from disadvantaged neighborhoods, 7.1% were Black, and 50.5% were women.
Ultimately, the study found that with a weighted lottery system in a large health system does, in fact, help to allocate resources to disadvantaged populations. However, it also found that "Black individuals who are allocated [the resources] may be less likely to accept allocation and receive it."
Lead author Erin McCreary, PharmD, Clinical Assistant Professor in the University of Pittsburgh's School of Medicine's Division of Infectious Diseases, and Director of Infectious Diseases Improvement and Clinical Research Innovation at UPMC, stated, "Equitable allocation of a resource is not the same as equitable receipt of that resource."
"The weighted lottery and UPMC's efforts to remove barriers to care worked to get [the resource] to many patients who otherwise likely would have been unable to receive it," said senior author Douglas White, MD, professor and UPMC Endowed Chair for Ethics in Critical Care Medicine. "But we also learned that we must continue to enhance efforts to remove barriers to care if we are ever to close the considerable gap in racial equity during times of scarcity."
Read more from UPMC here.