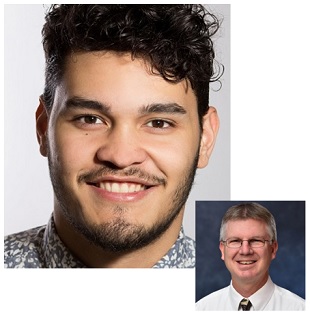 Sene Polamalu, a bioengineering graduate student at the University of Pittsburgh in the Orthopedic Robotics Laboratory under the supervision of McGowan Institute for Regenerative Medicine affiliated faculty member Richard Debski, PhD, William Kepler Whiteford Faculty Fellow and Professor of Bioengineering and Orthopaedic Surgery, was named the 2019 Wesley C. Pickard Fellow by the Department of Bioengineering. Recipients of this award are selected by the department chair and chosen based on academic merit.
Mr. Polamalu began his studies in applied mathematics at Millersville University of Pennsylvania where he received his bachelor's degree in two years. He then joined the mechanical engineering graduate program at the Swanson School of Engineering for one semester before receiving a STRIVE Fellowship and switching to the bioengineering program.
Mr. Polamalu is working on multiple biomechanical research projects in the Orthopedic Robotics Laboratory lead by Dr. Debski and Volker Musahl, MD, Blue Cross of Western Pennsylvania Professor in Orthopaedic Surgery and Chief of Sports Medicine.
"My primary research is focused on the association of tibiofemoral bony morphology and anterior cruciate ligament (ACL) injuries," said Mr. Polamalu. "This research aims to improve ACL injury prevention and treatment by determining patient-specific bone shape parameters that increase the risk for ACL injury."
The ACL is a major ligament that stabilizes the knee, and injury to this ligament is most commonly experienced during sports that involve sudden stops or changes in one direction. Recovery from an ACL trauma can leave athletes out of practice for several months.
"I have always been passionate about sports-related injuries," said Mr. Polamalu. "My research in biomechanics at Pitt has further fueled my interest in orthopaedic injury prevention and treatment. I am grateful for the support I have received from this award."
Mr. Polamalu is starting his third year as a graduate student researcher in the Swanson School, and the Wesley C. Pickard Fellowship will provide funding for his research during the upcoming academic year.
"I'm incredibly proud of what Sene has accomplished during his time in the Orthopaedic Robotics Laboratory, and this fellowship is a well-deserved recognition of his work," said Dr. Debski. "His project has the potential to  determine which individuals are at more risk for ACL injury based on the bony morphology of their knee. Individualized treatments can then be developed to improve surgical success and reduce secondary injuries."
Read more…
University of Pittsburgh Swanson School of Engineering News Release