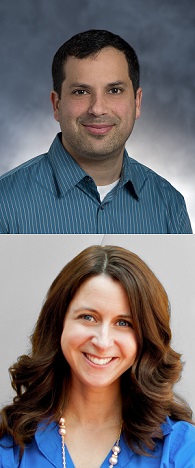 Congratulations to McGowan Institute for Regenerative Medicine affiliated faculty members Tzahi Cohen-Karni, PhD, Assistant Professor in the Department of Biomedical Engineering at Carnegie Mellon University (CMU), and Kathryn Whitehead, PhD, Assistant Professor in the Departments of Chemical Engineering and Biomedical Engineering at CMU, who have been awarded the 2019 Dean's Early Career Fellowships for cutting-edge innovations in their fields and outstanding contributions to the college and university. Dean's Early Career Fellowships are awarded to untenured faculty members who have been nominated by their department heads and then selected to receive the fellowship after review and discussion of the nomination package by the CIT Review Committee.
Congratulations, Drs. Cohen-Karni and Whitehead!
Illustration:  Carnegie Mellon University.
Read more…
Carnegie Mellon University Biomedical Engineering Latest News