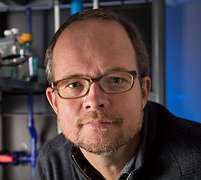 Covestro announced Carnegie Mellon University's (CMU's) Newell Washburn, PhD, as the recipient of its global Science Award in recognition of his role in pioneering a scientific innovation that speeds the development of customized polymer formulations. Dr. Washburn, an associate professor of chemistry and biomedical engineering, with a courtesy appointment in the department of materials science and engineering, accepted the award during the Covestro Science Celebration at K 2019 held in Düsseldorf, Germany. Held every three years, K 2019 is the world's leading trade show for the plastics and rubber industry.
"Our collaboration with Dr. Washburn is the latest example of how Covestro is harnessing the promise of digitalization and innovation to address shorter product cycles and an increased demand for new products," said Haakan Jonsson, PhD, president and managing director, Covestro LLC. "This ability puts us in position to better meet the needs of our customers and consumers."
Dr. Washburn was singled out for a proprietary technology that solves a common industry challenge. Traditionally, formulating polyurethane elastomers, foams and coatings to a customer's exact specifications is a time-consuming process, filled with trial and error in the lab. Dr. Washburn's hierarchical machine learning approach, developed in collaboration with Barnabás Póczos, PhD, associate professor of machine learning at Carnegie Mellon, leverages data analytics and simulation to more quickly determine the formulation that meets customer requirements. Dr. Washburn, on sabbatical from CMU, is working closely with Covestro experts in the coatings, adhesives and specialties, and polyurethanes businesses to optimize this novel approach.
"The experience I've had with Covestro has been extremely valuable," said Dr. Washburn. "I'm thankful for the opportunity to work with an organization that nurtures innovation and recognizes the value it brings to its business, and the business of its customers."
Read more…
Carnegie Mellon University News Release