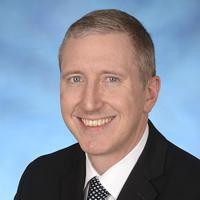 Cardiomyopathy is a disease that affects the heart muscle. In cardiomyopathy, the damaged heart muscle becomes enlarged, thick, or rigid, and cannot pump blood effectively. It's the leading cause of heart failure and the most common reason for needing a heart transplant. Unlike other heart problems, cardiomyopathy frequently affects younger people.
McGowan Institute for Regenerative Medicine affiliated faculty member David Kaczorowski, MD (pictured), is the Surgical Director of the Advanced Heart Failure Center of the University of Pittsburgh Medical Center Heart and Vascular Institute and an Associate Professor of Cardiothoracic Surgery, Department of Cardiothoracic Surgery, University of Pittsburgh. Dr. Kaczorowski's clinical work is devoted mainly to treating patients with advanced heart failure and cardiogenic shock through the use of temporary mechanical support modalities such as extracorporeal membrane oxygenation (ECMO) and durable strategies, including left ventricular assist devices (LVAD) and cardiac transplantation.
As Sharpsville, PA, native Thomas Findley, now 38 years old, recently completed his physical therapy, he found his life taking one more step toward returning to normal — not just because of his heart transplant several months ago, but after years of dealing with heart-related illnesses. His story of recovery was reported by David Dye, a staff writer for The Herald.
In mid-October 2021, Mr. Findley was taken to UPMC Presbyterian in Pittsburgh and was there until mid-November, when he was placed on the list for a heart transplant. About a week before his transplant, he was given an artificial pump due to his failing heart. He was later placed on the transplant list on Nov. 10 and received a heart on Nov. 12.
Dr. Kaczorowski, who was involved in caring for Mr. Findley during his stay at the hospital, said his patient suffered from cardiomyopathy. At the point Mr. Findley received his heart, Dr. Kaczorowski said it was difficult to predict how much longer he could have survived without the heart transplant.
"I would say he was becoming fairly ill," Dr. Kaczorowski said. "I think we were worried that his liver was becoming dysfunctional, and his kidney function was getting worse."  Dr. Kaczorowski said the transplant itself went "smoothly," while Mr. Findley was able to leave the hospital on the 12th day after surgery, instead of the usual several weeks it has taken other patients.
Dr. Kaczorowski said there are different steps people can take to maintain a healthy heart, such as regular visits to a physician, exercise, and avoiding activities such as smoking.
Read more…