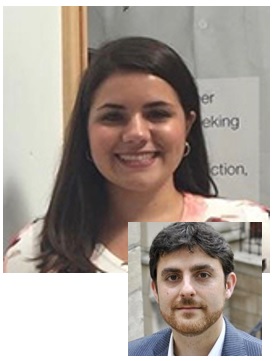 Marissa Behun, a first-year PhD student in bioengineering at the University of Pittsburgh, received a Predoctoral Clinical and Translational Science Fellowship. This competitive award equips researchers with the skills to advance the translation of discoveries into improved patient outcomes and health policy.
Ms. Behun works in the Brown Lab, which is led by Bryan Brown, PhD, a member of the McGowan Institute for Regenerative Medicine and associate professor of bioengineering at Pitt's Swanson School of Engineering. The group's research seeks to couple a mechanistic understanding of the host inflammatory response with the development of biomaterials for regenerative medicine.
Ms. Behun's research examines the correlation between aging, skeletal muscle repair and immune cell populations. She works to address defects in aging skeletal muscle, such as sarcopenia – a condition characterized by loss of skeletal muscle mass and function that affects 10 percent of individuals over 65 years old.
"Sarcopenia is a chronic, debilitating condition with many unsatisfactory treatment plans," Ms. Behun explained. "This condition is often present in elderly patients who experience adverse outcomes, morbidity and mortality during surgery. Aging and sarcopenia are also associated with a reduced capacity to heal muscle injury, contributing to the incidence of incisional hernias."
While defects in extracellular matrix composition and/or cellular response to injury are deemed explanations for this condition, both have been poorly tested.
"The cellular response to injury has been well characterized in young animals, and evidence has shown that old cells placed on young matrix have a youthful phenotype," Ms. Behun said. "However, recent evidence from our lab has shown that defective repair in aging is at least partially attributed to defects in immune cell recruitment, not polarization."
Ms. Behun uses special biomaterials in a well-established body wall defect to assess tissue remodeling and compare young animals to aged ones.
"The main things we want to evaluate are the types of cells that respond to injury, the effect of different bioactive molecules delivered via biomaterials on infiltrating immune cell types, and the contribution these cells have on constructive repair of injured tissues," she said.
Understanding these bioactive materials may improve development, which could ultimately help clinicians more effectively address defects in aging skeletal muscle in humans and improve surgical outcomes.
Illustration:  Behun (Institute for Clinical Research Education)/Brown (McGowan Institute for Regenerative Medicine)
Read more…
University of Pittsburgh Swanson School of Engineering News Release