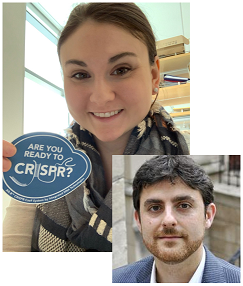 Elizabeth (Abby) Stahl, PhD, former student in the lab of McGowan Institute for Regenerative Medicine faculty member Bryan Brown, PhD, associate professor in the Department of Bioengineering with secondary appointments in the Department of Obstetrics, Gynecology, and Reproductive Sciences and the Clinical and Translational Science Institute at the University of Pittsburgh, is one of many examples of how sciVelo rounds out mentoring with academic entrepreneurship experiences.  Dr. Stahl is now a postdoctoral scholar with Jennifer Doudna, PhD, CRISPR-Cas9 inventor, at University of California, Berkeley.
Dr. Stahl's graduate work was focused on characterizing phenotypic and functional changes in tissue-specific macrophage subsets during aging and applying these findings to modulate age-associated inflammation in the liver. Her PhD work also led to deeper understanding of mechanisms associated with various pathologies, including muscular dystrophy and cancer. As a result, she published 14 research articles in peer-reviewed journals and is the co-inventor of two invention disclosures filed through Pitt's Innovation Institute.
sciVelo's Ceren Tuzmen, PhD, reports that during her time at sciVelo as a Commercial Translation Architect, Dr. Stahl worked on translational research projects in immunotherapy, transplantation and molecular biology. She tackled diverse projects, including aiding investigators with customer discovery for the NIH NIDCR Michigan-Pittsburgh-Wyss Regenerative Medicine Resource Center, early-stage investment pitches for the Center for Commercial Applications of Healthcare Data of the Pittsburgh Health Data Alliance and helped to construct translational research proposals and invention disclosures for the UPMC Immune Transplant and Therapy Center, all with the goal of advancing translational research at the University of Pittsburgh. Although she successfully coordinated these projects and developed valuable skills, such as project prioritization, project management and team science, she admits it was challenging at times.  "The most challenging thing about working with sciVelo is the high bar that sciVelo sets for its team members. But this was also one of the most productive experiences thanks to having great mentors to learn from."
Dr. Stahl continues, "sciVelo fostered my career development in several ways. Most importantly to me, sciVelo helped to expand the way I communicated science by simplifying complex ideas into succinct concepts to highlight a commercial application such as a drug or a molecular diagnostic. I gained these skills from both editing invention disclosures and fine tuning translational-research-funding pitch slide decks. As a result, I felt more confident at communicating my perspectives to senior leadership, which I think was a very valuable skill!"
Illustration:  sciVelo (Dr. Stahl).  McGowan Institute (Dr. Brown).
Read more…