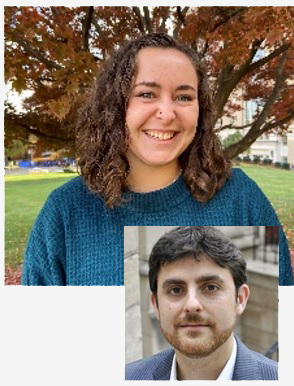 The US-Ireland Alliance recently announced the 21st Class of George J. Mitchell Scholars and among the finalists was McKenzie Sicke, a bioengineering undergraduate at the University of Pittsburgh who works in the lab of McGowan Institute for Regenerative Medicine Bryan Brown, PhD, associate professor of bioengineering.  In Dr. Brown's lab, she studies angiogenic response to polypropylene mesh implants in rabbit models. The George J. Mitchell Scholarship Program is a national, competitive scholarship that awards one year of postgraduate study in any discipline offered by institutions of higher learning in Ireland and Northern Ireland to up to 12 students annually.
A native of upstate New York, Ms. Sicke joined the Swanson School of Engineering at Pitt in 2016 and has spent her time studying bioengineering and reaching beyond the classroom to discover how this work can be applied to the real world. Upon graduation, she hopes to continue her studies and was attracted to Ireland's medical device design community. She said, "I am driven by the desire to create empathetic healthcare solutions that have a big impact."
"Being able to take my project from start to finish over the past year and a half has been an invaluable experience," she said. "With the help of my research mentor, Aimon Iftikhar, I developed protocols and took them through each phase of testing. I've learned a lot working with her and contributing to her thesis work has made me more confident of my place in a lab setting."
She also spent the past summer participating in Pitt's SERIUS study abroad program at the National University of Singapore where she worked in the SINAPSE Lab on a neurotechnology project focused on nanoparticle-aided stem cell therapy for ischemic stroke.
In addition to pursuing her degree and research projects, Ms. Sicke has worked as a teaching assistant and peer advisor for freshman engineering students and volunteers as a 3D printing mentor in the bioengineering department's student-run makerspace. She is also the current publicity chair for the undergraduate chapter of the Biomedical Engineering Society.
"This is indeed a magnificent accomplishment. Students like Kenzie are a source of delight to the Department of Bioengineering," said Arash Mahboobin, PhD, assistant professor of bioengineering and director of the undergraduate program. "I always feel fortunate and privileged to have the opportunity to get to know these young individuals and, perhaps, have some influence on their development and progression as professionals and people. I will certainly watch Kenzie's career develop with great interest and high expectations."
The Mitchell Scholars Program is named in honor of George J. Mitchell, the former United States senator who served as chairman of the peace negotiations in Northern Ireland. Under his leadership the Good Friday Agreement, a historic accord ending decades of conflict, was agreed to by the governments of Ireland and the United Kingdom and the political parties of Northern Ireland.
Illustration:  University of Pittsburgh Swanson School of Engineering (Ms. Sicke) and McGowan Institute for Regenerative Medicine (Dr. Brown).
Read more…
University of Pittsburgh Swanson School of Engineering News Release