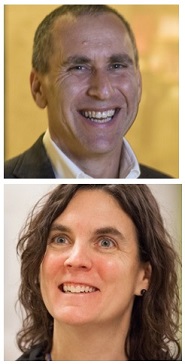 A team of University of Pittsburgh and UPMC researchers was recently awarded two grants from the National Institutes of Health (NIH) totaling over $8 million to expand their groundbreaking brain computer interface (BCI) research in collaboration with researchers at the University of Chicago and Carnegie Mellon University.
The BCI team at Pitt and UPMC, composed of Jennifer Collinger, PhD, Michael Boninger, MD, Robert Gaunt, PhD, and Elizabeth Tyler-Kabara, MD, PhD, has worked with two Pittsburgh-area clinical trial participants since 2012, both of whom had paralysis of their arms and hands, to allow them to control a robotic arm with their minds. One of them even regained his sense of touch through the robotic arm. The new funding will support critical next steps in their research.
Both Drs. Boninger, the UPMC Endowed Vice Chair for Research in the Department of Physical Medicine & Rehabilitation at Pitt, and Tyler-Kabara, Associate Professor in the Departments of Neurological Surgery, Bioengineering, and Physical Medicine and Rehabilitation at Pitt and Director of the Spasticity and Movement Disorder Program at Children's Hospital of Pittsburgh of UPMC, are McGowan Institute for Regenerative Medicine affiliated faculty members.
The first grant, led by Dr. Boninger, provides $7 million in NIH funding to expand Pitt and UPMC's BCI trial to a second site at the University of Chicago, where the researchers will collaborate with a team led by Sliman Bensmaia, PhD, and Nicholas Hatsopoulos, PhD, with the goal of restoring hand function via a robotic arm.
The Pittsburgh and Chicago teams will each enroll two additional research participants over the next five years, allowing them to replicate the promising work done already in Pittsburgh and increasing their research capacity with the goal of uniting the sensory and motor systems so they can work together for improved and more functional control of the robotic arm.
"Expanding our BCI research is a critical part in the translational process of bringing research to the people who need it most," said Dr. Boninger. "Together with our collaborators at the University of Chicago, we hope to reach our eventual goal of making this technology functional for everyday use."
The second grant, led by Dr. Collinger, provides $1.2 million in NIH funding for the research team over the next two years to study how the environment and the context of a task impacts motor plans and sensory perception. The grant is part of the federal BRAIN Initiative, a large-scale effort announced in 2013 aimed at gaining a deeper understanding of the brain and applying the knowledge to prevent and treat brain disorders.
Additional collaborators on the grant include Steven Chase, PhD, and Byron Yu, PhD, of Carnegie Mellon University's College of Engineering; and Aaron Batista, PhD, and Patrick Loughlin, PhD, of Pitt's Swanson School of Engineering.
"When someone is controlling a robotic arm using a BCI, we get a very strong signal that tells us how they are planning to move that arm, but that signal is drastically impacted by changes in the environment around them," said Dr. Collinger, Assistant Professor in the Department of Physical Medicine and Rehabilitation at Pitt. "For example, the way we move our arm to grasp is likely very different if we are reaching for a full glass of water, an empty glass, a hot cup of coffee or a plastic water bottle. Uniting our expertise with new collaborators at Pitt and CMU will allow us to gain a better understanding of how and why the brain functions in this way when generating motor plans or perceiving sensory information."
Read more…
UPMC/PittHealthSciences News Release
University of Pittsburgh Swanson School of Engineering News Release