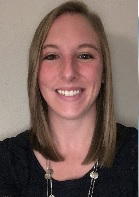 University of Pittsburgh graduate student Stephanie Rigot, DPT, received an F30 Individual Predoctoral NRSA Fellowship from the National Institutes of Health. The award provides funding for students who are matriculated in a combined dual-doctoral degree training program and who intend to pursue careers as physician-scientists or other clinician-scientists.
Dr. Rigot is a member of the inaugural class of the Doctor of Physical Therapy/PhD in Bioengineering (DPT-PhD) dual-degree program, a unique offering that integrates clinical and research experiences in the School of Health and Rehabilitation Sciences and the Swanson School of Engineering.
"This program combines the outstanding evidence-based physical therapy education and innovative bioengineering research training that already exists at the university and builds upon synergies between faculty members of the nationally-ranked Departments of Bioengineering and Physical Therapy," said Patrick Sparto, associate professor of physical therapy and co-director of the DPT-PhD program.
Dr. Rigot works in the lab of McGowan Institute for Regenerative Medicine affiliated faculty member Michael Boninger, MD, Professor and UPMC Endowed Vice Chair for Research in the Department of Physical Medicine & Rehabilitation, where she aims to develop a new measure of impairment after spinal cord injury using leg movements measured by activity monitors.
"Current testing, which is primarily measured by brute tests of strength and sensation, may not be sensitive enough to provide an accurate representation of an individual's impairment and functional abilities," explained Dr. Rigot. "Our new measure could be used to track an individual's recovery over time, as well as provide a novel method to predict an individual's long-term mobility potential using data collected soon after their spinal cord injury."
The length of stay in inpatient rehabilitation after a spinal cord injury is decreasing, which forces clinicians to quickly make critical decisions about where to focus time in therapy to maximize an individual's functional mobility.
Dr. Rigot plans to develop a new clinical prediction rule that would provide clinicians, individuals with spinal cord injuries, and their families with a more accurate and descriptive estimation of the individual's future mobility. This strategy will allow patients to tailor their therapy and focus on the ideal interventions.
"If we can develop a tool to assist clinicians in determining the optimal interventions during therapy early after an injury, then we can hopefully improve the participation, quality of life, pain, and other outcomes for many of the nearly 18,000 people in the United States that experience a new spinal cord injury each year," said Dr. Rigot.
Illustration:  University of Pittsburgh Swanson School of Engineering.
Read more…
University of Pittsburgh Swanson School of Engineering News Release