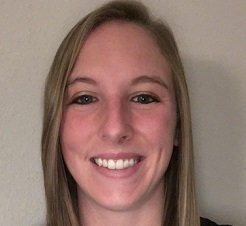 Stephanie Rigot, DPT, a physical therapy and bioengineering graduate student at the University of Pittsburgh, received a Postdoctoral Clinical and Translational Science Fellowship. This competitive award provides a stipend and partial tuition support for up to two years of multidisciplinary clinical and translational research.  Dr. Rigot works in the laboratory of McGowan Institute for Regenerative Medicine affiliated faculty member Michael Boninger, MD, Professor and UPMC Endowed Vice Chair for Research in the Department of Physical Medicine & Rehabilitation.
Dr. Rigot is a member of the inaugural cohort of the Doctor of Physical Therapy/PhD in Bioengineering (DPT-PhD) dual-degree program, a unique offering that integrates clinical and research experiences in the School of Health and Rehabilitation Sciences and the Swanson School of Engineering.
"This program combines the outstanding evidence-based physical therapy education and innovative bioengineering research training that already exists at the university and builds upon synergies between faculty members of the nationally-ranked Departments of Bioengineering and Physical Therapy," said Patrick Sparto, associate professor of physical therapy and co-director of the DPT-PhD program.
In the Boninger Lab, Dr. Rigot aims to create a new clinical prediction rule for a patient's ambulatory ability after spinal cord injury using lower limb movement measured by activity monitors. Current prediction rules, she explained, are not sufficient to predict ambulation for individuals with moderate impairments and do not provide the full picture for a patient's mobility potential. These shortcomings can lead to improper use of therapy time and limit an individual's functional independence.
"These tools fail to provide insight into the quality of gait or whether it is likely to be a functional mode of mobility," Dr. Rigot said. "By using machine learning techniques, we aim to combine clinical measures, psychosocial and environmental factors, and lower limb movements to develop prediction models that provide improved insight into the long-term mobility prognosis of individuals with acute spinal cord injuries. We hope that the models can be used to optimize patient care during rehabilitation," she explained.
Dr. Rigot graduated with a Doctor in Physical Therapy degree in April 2018 and is now focusing on the bioengineering aspects of the program to complete her PhD.
"The uniquely intertwined physical therapy, engineering, and research training offered by the DPT-PhD program has provided me with abilities necessary to excel in both clinical and technical fields," said Dr. Rigot. "I am grateful to have had the opportunity to be part of an outstanding multidisciplinary program that has allowed for my growth as a clinician and researcher in ways that I could not imagine before beginning this program."
Dr. Boninger, who chairs her doctoral committee, said, "Stephanie and her project embody what the DPT-PhD program hoped to achieve. She is completing highly technical research that is clinically relevant and immediately translatable into practice. I am not surprised she was selected for this highly competitive grant – she is an outstanding student working in an important area."
Illustration:  University of Pittsburgh Department of Physical Medicine & Rehabilitation.
Read more…
University of Pittsburgh Swanson School of Engineering News Release