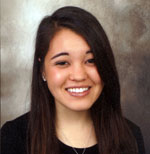 From the laboratory of McGowan Institute for Regenerative Medicine Deputy Director Stephen Badylak, DVM, PhD, MD, Professor in the Department of Surgery and Director of the Center for Pre-Clinical Tissue Engineering within the Institute, graduate student Lindsey Saldin received the Bioengineering Graduate Student Award.
Ms. Saldin is a doctoral student within the Bioengineering Department at the University of Pittsburgh. Her research interests focus on developing tissue-engineered models of cancer using ECM scaffolds, to investigate how normal, inflammatory, and neoplastic microenvironments regulate the progression of esophageal adenocarcinoma.
Ms. Saldin received this award on December 6, 2018.  During this time, she also highlighted her research with a presentation entitled, "Esophageal Extracellular Matrix Hydrogel to Restore Dysregulated Microenvironment-Cell Signaling for Treatment of Esophageal Disease."
Congratulations, Ms. Saldin!