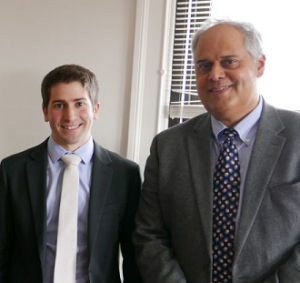 Through the University of Pittsburgh's Innovation Institute, the First Gear program helps shape Pitt inventions originating from University research from early-stage discovery to products and services that can be taken to market. The program offers hands-on guidance and mentorship that takes an inventor through the necessary steps in creating a go-to-market plan that can result in the creation of a new enterprise or licensing agreement for the technology.
Nitrix, which is aiming for a less expensive solution for treating chronic wounds, received $5,000 from the Chancellor Innovation Commercialization Funds at the most recent Pitt Ventures First Gear Demo Day.  Nitrix is one of the latest products of the McGowan Institute for Regenerative Medicine in the laboratory of principal investigator (PI) Bryan Brown, PhD, Assistant Professor of Bioengineering.  Dr. Brown's graduate student researcher, Samuel LoPresti, the project's entrepreneurial lead (EL), said First Gear helped in engaging clinical experts to learn what needs they have in wound care and in proving that the technology his team is developing is an advance over current standards via small animal studies.
The Nitrix project was advised by volunteer mentors (M) Leon Perez and Peter Vercilla.
Other McGowan Institute affiliated teams participating in the fall 2017 First Gear cohort included:
Vital-Dent is developing a system to improve root canal procedures to prevent bacterial infection leading to root infection.
PI: Juan Taboas, PhD, Herbert Ray, DMD
EL: Jingming Chen, Adam Chin
M: Denny Wist, Kerry Hanahan
Flash non-interference tool for reducing length of cardiac surgery is a surgical tool that improves the operating experience and reduces time for cardiac surgeries.
PI: Youngjae Chun, PhD
EL: Seth Stern
M: Kuang Zhang
Congratulations, all!
Illustration:  Pitt Ventures First Gear Fall 2017 Cohort Demo Day winners included the Nitrix team represented by student entrepreneurial lead Sam LoPresti (left) and business mentor Leon Perez (right).
Read more…