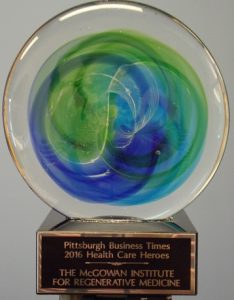 Annually in September, the Pittsburgh Business Times pays tribute to local area Health Care Heroes.  The 2016 Health Care Heroes Awards honor the individuals, companies, and organizations in western Pennsylvania for their contributions to improving health care in the region.  This year, the McGowan Institute for Regenerative Medicine was selected as a recipient of the award in the Health Care Innovation category
The McGowan Institute for Regenerative Medicine is a network of ~220 faculty members, primarily located at the University of Pittsburgh or the University of Pittsburgh Medical Center (UPMC), with other members of the network whose primary base of operations are at Carnegie Mellon University or Duquesne University.  The faculty works together in multidisciplinary teams to develop solutions to tissue or organ insufficiency due to disease, trauma, or congenital issues. The current standard of care in most cases is to just treat the symptoms.
The tools that are used to realize those outcomes are tissue engineering, cell-based therapies, and artificial and bio-hybrid organ devices that have the potential of repairing damaged or diseased tissues and organs.
The McGowan Institute's mission includes the development of innovative clinical protocols as well as the pursuit of rapid commercial transfer of its technologies related to regenerative medicine. Also critical to the mission is the education and training of the next generation of scientists, clinicians, and engineers who will carry the field forward toward the ultimate goal of patient benefit.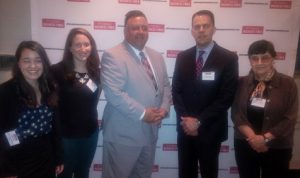 The McGowan Institute Director William Wagner, PhD, professor in the Department of Surgery at the University of Pittsburgh, accepted the award at the awards ceremony on September 8, 2016.  Dr. Wagner is an active researcher in the biomaterials field and leads a research group focused on developing technology to address cardiovascular disease.  The award ceremony attendees are pictured L to R: Lindsey Saldin, Jenna Dziki, Patrick Cantini, Dr. Wagner, and Marina Kameneva, PhD.
While the McGowan Institute is known for translating scientific concepts into innovative products, services, and biomedical solutions, this is only possible because of its carefully crafted infrastructure that fosters idea generation, translational development, and clinical implementation.
McGowan Institute affiliated faculty have had notable success in identifying needs and developing solutions. The Institute has established mechanisms and organized resources to facilitate the translation of concepts into solutions.  The impact of this is summarized in the following statistics:
847 invention disclosures
760 patents filed in the United States
1,500+ patents filed worldwide
50+ industrial partnerships and growing
$20+ million attained from industry to support regenerative medicine research
157 licenses/options completed to outside partners
200+ CDA's executed with companies
25 spinout companies formed by McGowan Institute affiliated faculty
In addition to these statistics which show significant progress in the maturation and implementation of emerging medical technologies, a few examples of enhanced patient care are:
McGowan Institute tissue engineering technology has treated over 8 million patients with soft tissue defects, such as torn rotator cuff, pressure ulcers, diabetic ulcers, etc. In addition, an adaptation of this technology has successfully restored lost muscle in extremities due to traumatic events.  To date, 13 individuals with severe muscle loss have been successfully treated in a DOD-sponsored clinical trial.
McGowan Institute affiliated faculty have developed and demonstrated the feasibility of using patient-derived adipose fat to treat defects such as facial deformities, breast reconstruction, and to provide padding for amputees who wear a prostatic limb.
McGowan Institute affiliated faculty, in collaboration with a commercial partner, developed the most widely used ventricular assist device used to address heart failure (over 20,000 applications).
Also, these emerging technologies are in different stages of maturity:
A new organ preservation system has been developed that pumps cooled, oxygen-rich fluid into donor organs that not only keeps the organs in excellent condition for as long as 9 hours before transplantation, but also leads to dramatically better organ function. The initial studies have focused on the liver, and this system offers the potential to increase the survival of liver transplant recipients.
Currently, 20 to 40 percent of donor livers cannot be transplanted into recipients because of oxygen deprivation during storage and transport in conventional containers.  In a preclinical study, researchers found that 100 percent of the pigs who got machine perfused (MP) livers, the livers survived compared to 33 percent of those who received conventionally preserved organs. The data from the studies have been shared with federal regulators with the aim of launching a clinical trial to test the system at UPMC this year.
McGowan Institute scientists have demonstrated a significantly improved way of treating burns (up to 2nd degree). As an alternative to the standard-of-care (skin grafting) where un-burned tissue is harvested from the patient, the alternative approach is to use a cell-spraying methodology to implant some of the patient's cells into the burn. In the trials conducted to date, the quality of healing and the speed of healing have been significantly improved.
Other UPMC-affiliated award winners include:
Rosemarie Cooper, UPMC Center for Assistive Technology: Provider/Nonphysician
Rocco Adams, MD, UPMC Mercy: Physician
Robert Arnold, MD, Department of Medicine, UPMC: Physician
Nancy Davidson, MD, University of Pittsburgh Cancer Institute: Lifetime Achievement
Debra Hornyak, MD, Children's Hospital of Pittsburgh of UPMC: Provider/Nonphysician
Elizabeth Miller, MD, Children's Hospital of Pittsburgh of UPMC: Physician
Congratulations, all!
Read more…
Pittsburgh Business Times (subscriber content)