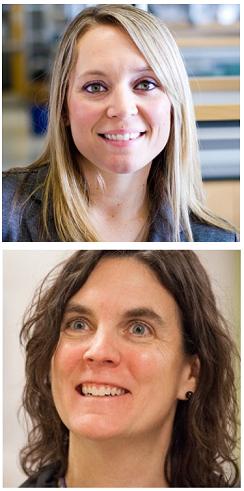 The Ladies Hospital Aid Society 2018 Trailblazer Awards went to six doctors advancing the cause of medicine in their fields. Two of the six recipients were McGowan Institute for Regenerative Medicine affiliated faculty members:
Morgan Fedorchak, PhD, Assistant Professor of Ophthalmology, Chemical Engineering, and Clinical & Translational Sciences at the University of Pittsburgh.  She is also the Director of the Ophthalmic Biomaterials Laboratory at Pitt and is affiliated with the Louis J. Fox Center for Vision Restoration.  Dr. Fedorchak's research interests include drug delivery to the eye and the development of novel biomaterials for ophthalmic applications.
Elizabeth Tyler-Kabara, MD, PhD, Associate Professor in the Departments of Neurological Surgery, Bioengineering, and Physical Medicine and Rehabilitation at the University of Pittsburgh. She is the Director of the Spasticity and Movement Disorder Program at Children's Hospital of Pittsburgh of UPMC. Dr. Tyler-Kabara is on the Medical Staff of Children's Hospital and of UPMC Presbyterian and Shadyside Hospitals. She is on the Consultant Staff of Magee Womens Hospital of UPMC.  At the present time, Dr. Tyler-Kabara is pursuing research interests in novel approaches to screen for inflicted childhood neurotrauma, phase 3 of the revolutionizing prosthetics program, and the cortical control of a dextrous prosthetic hand.
"We are very excited about the cutting edge work our honorees have done to date and can't wait to see how it manifests itself in the future," said Brittany Holzer, co-chair of the Fire & Ice Gala held at the Carnegie Science Center.
Winners were each surprised with $20,000 to help further their research.
Established in 1898, the Ladies Hospital Aid Society (LHAS) has been providing educational, financial, medical and social services to individuals and families in Western Pennsylvania for over 115 years.  LHAS is a 501(c)3 non-profit organization governed by a board of 30 volunteers.  More than 700 members volunteer to support programs, fund-raising, and special events.  LHAS has raised over $15,000,000 and has volunteered several million work hours since its inception.  LHAS allocates more than $350,000 annually for research, community projects, educational seminars, and social services.
Read more…