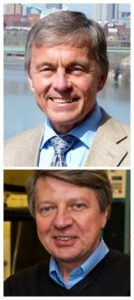 McGowan Institute for Regenerative Medicine affiliated faculty members Stephen Badylak, DVM, PhD, MD, Professor in the Department of Surgery at the University of Pittsburgh, a Deputy Director of the McGowan Institute, and Director of the Center for Pre-Clinical Tissue Engineering within the Institute, and Krzysztof Matyjaszewski, PhD, J.C. Warner Professor of Natural Sciences at Carnegie Mellon University, are among the top 300 highly cited researchers or scholars in the field of materials science and engineering.  The citation data is based on the Elsevier Scopus database.
MSE Supplies compiled the ranking data and listed the names and institutions of these highly cited authors.  The highly cited researchers or scholars are either the corresponding author or the first author of their publications. MSE Supplies is a leading supplier of high quality materials and equipment for advanced materials research and manufacturing.
Congratulations, Drs. Badylak and Matyjaszewski!
Read more…