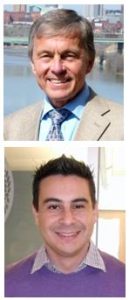 The 2015 Annals of Biomedical Engineering (ABME) review paper entitled, "Biologic Scaffolds for Regenerative Medicine: Mechanisms of In Vivo Remodeling," received the most downloads and was the most cited paper of the year, receiving 23 citations.  Authors of the paper include Cellular Approaches to Tissue Engineering and Regeneration (CATER) Training Program graduate, Ricardo Londono, PhD, and McGowan Institute for Regenerative Medicine Deputy Director Stephen Badylak, DVM, PhD, MD, Professor in the Department of Surgery and Director of the Center for Pre-Clinical Tissue Engineering within the McGowan Institute.  Dr. Londono is a member of Dr. Badylak's laboratory team with research focused in two areas:
The characterization of the early immune and stem cell response to implanted biologic and synthetic biomaterials.
The development and implementation of multiple pre-clinical models for the study of mechanisms of biomaterial-mediated tissue repair. Such models include esophageal and breast reconstruction after neoplastic tissue resection and abdominal wall repair.
Drs. Badylak and Londono will be acknowledged at the ABME editorial meeting and awards presentation at the Biomedical Engineering Society (BMES) Annual Meeting taking place in Minneapolis, Minnesota, on October 5-8.
Congratulations, Drs. Badylak and Londono!
Read more…
Abstract (Biologic scaffolds for regenerative medicine: mechanisms of in vivo remodeling.  Londono R, Badylak SF.  Annals of Biomedical Engineering; 2015 Mar;43(3):577-92.)