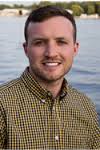 Three cheers for Tim Keane, PhD, who won the "Best Presentation Award" at the Bridgeside Research Forum for his talk entitled, "Extracellular Matrix as a Therapy for Ulcerative Colitis." Dr. Keane works in the laboratory of McGowan Institute for Regenerative Medicine deputy director Stephen Badylak, DVM, PhD, MD, professor in the Department of Surgery and director of the Center for Pre-Clinical Tissue Engineering within the Institute.
The Bridgeside Research Forum is a seminar given by University of Pittsburgh postdocs and graduate students every Friday during the academic year.  Dr. Keane made his presentation on February 26, 2016.  His award comes with a $300 prize for travel support to meetings.
Congratulations, Dr. Keane!