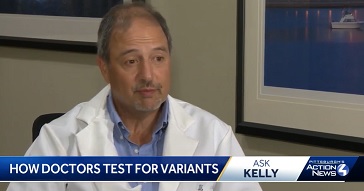 That's the question Kelly Sasso from Pittsburgh's WTAE received from a man in Latrobe, PA.  Ms. Sasso got the answer from McGowan Institute for Regenerative Medicine faculty member Alan Wells, MD, the Thomas J. Gill III Professor of Pathology and the Executive Vice-Chairman of the Department of Pathology at the University of Pittsburgh.  He is also the medical director at UPMC's Clinical Laboratories.
Ms. Sasso received from Dr. Wells a tour of the largest academic clinic lab in the US which is located at UPMC.
Dr. Wells explained, "For any individual that is sick, COVID is COVID."  Current COVID tests do not identify the variant of the virus. Treatment is the same based on how sick a patient is and what that patient's risks are.
Dr. Wells further explained that 90% of current COVID cases in the Pittsburgh area are the delta variant.  Further testing is done on random COVID test samples from Dr. Wells' lab at the Microbial Genomic Epidemiology Lab, also at UPMC.  Here is where the virus' variant is determined.
Watch the entire interview here.
Illustration:  WTAE