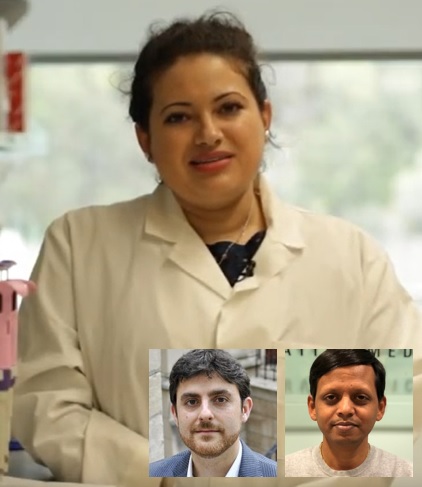 CATER trainee Alexis Nolfi, Dr. Bryan Brown, and their team have won $100,000 through this year's PInCH challenge. Their project, called CyteSolutions Lens, is one of three to receive the award for their answer to this year's question, "What is your bold idea to solve a health-related problem?" The CyteSolutions Lens group, which includes Dr. Mangesh Kulkarni, developed a silicone-hydrogel-based contact lens that has been coated with natural biopolymers containing an immune modifying drug for the treatment of dry eye disease. Ms. Nolfi explains, "Dry eye is an exceedingly common condition, and it's very prevalent.  It's only going to increase as the population continues to age.  However, there are currently no effective treatments." For more information on the project, please see the video available here, and the Pitt News article here.
The PInCh competition is supported by the Clinical and Translational Science Institute and is designed to generate innovative solutions to challenging health problems by mitigating risk and providing financial and administrative support to move ideas forward. The program stimulates the translation of novel problem-focused research into the community by giving researchers a venue to be creative, develop new ideas, and work with people beyond their usual sphere of collaborators.
Illustration:  CyteSolutions Lens video (Ms. Nolfi).
Read more…