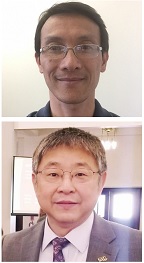 The International Society for the Study of the Lumbar Spine (ISSLS) Prize program, sponsored by European Spine Journal, comprises three awards of $20,000 each. Prizes are awarded competitively on the basis of scientific merit in one or more of the following areas: Basic Science, Bioengineering Science, and Clinical Science.
The ISSLS Prize Committee has awarded the 2021 ISSLS Prize in Basic Science to McGowan Institute for Regenerative Medicine affiliated faculty member Nam Vo, PhD, Associate Professor in the Departments of Orthopaedic Surgery and Pathology, and his research team for their manuscript, "A Novel Inducible System to Regulate Transgene Expression of TIMP1."  McGowan Institute affiliated faculty member Bing Wang, MD, PhD, Director of the Molecular Therapeutics Laboratory as well as an Associate Professor in the Departments of Orthopaedic Surgery and Neurology at the University of Pittsburgh School of Medicine, is a co-author of the study.
The abstract of this work follows:
Purpose: Inflammatory and oxidative stress upregulates matrix metalloproteinase (MMP) activity, leading to intervertebral disc degeneration (IDD). Gene therapy using human tissue inhibitor of metalloproteinase 1 (hTIMP1) has effectively treated IDD in animal models. However, persistent unregulated transgene expression may have negative side effects. We developed a recombinant adeno-associated viral (AAV) gene vector, AAV-NFκB-hTIMP1, that only expresses the hTIMP1 transgene under conditions of stress.
Methods: Rabbit disc cells were transfected or transduced with AAV-CMV-hTIMP1, which constitutively expresses hTIMP1, or AAV-NFκB-hTIMP1. Disc cells were selectively treated with IL-1β. NFκB activation was verified by nuclear translocation. hTIMP1 mRNA and protein expression were measured by RT-PCR and ELISA, respectively. MMP activity was measured by following cleavage of a fluorogenic substrate.
Results: IL-1β stimulation activated NFκB demonstrating that IL-1β was a surrogate for inflammatory stress. Stimulating AAV-NFκB-hTIMP1 cells with IL-1β increased hTIMP1 expression compared to unstimulated cells. AAV-CMV-hTIMP1 cells demonstrated high levels of hTIMP1 expression regardless of IL-1β stimulation. hTIMP1 expression was comparable between IL-1β stimulated AAV-NFκB-hTIMP1 cells and AAV-CMV-hTIMP1 cells. MMP activity was decreased in AAV-NFκB-hTIMP1 cells compared to baseline levels or cells exposed to IL-1β.
Conclusion: AAV-NFκB-hTIMP1 is a novel inducible transgene delivery system. NFκB regulatory elements ensure that hTIMP1 expression occurs only with inflammation, which is central to IDD development. Unlike previous inducible systems, the AAV-NFκB-hTIMP1 construct is dependent on endogenous factors, which minimizes potential side effects caused by constitutive transgene overexpression. It also prevents the unnecessary production of transgene products in cells that do not require therapy.
Congratulations, Drs. Vo and Wang!
Read more…
International Society for the Study of the Lumbar Spine Awards
Abstract (A novel inducible system to regulate transgene expression of TIMP1.  Yingchao Han, Zhihua Ouyang, Richard A. Wawrose, Stephen R. Chen, Maximiliane Hallbaum, Qing Dong, Emily Dando, Ying Tang, Bing Wang, Joon Y. Lee, Jeremy D. Shaw, James D. Kang, Gwendolyn A. Sowa & Nam N. Vo.  European Spine Journal (2021).)