Dr. Yadong Wang Named Fellow of AIMBE
McGowan Institute for Regenerative Medicine faculty member Yadong Wang, PhD,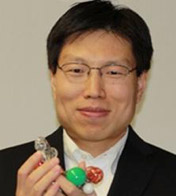 has been elected to the American Association for Medical and Biological Engineering (AIMBE) College of Fellows (Class of 2014).  This is a very prestigious election – only a select group of most accomplished medical and biological engineers makes up the AIMBE College of Fellows.  AIMBE's College of Fellows includes around 1,500 individuals who have made significant contributions to the medical and biological engineering (MBE) community whether in academia, industry, or government and their contributions to MBE research, industry practice, and education have transformed the world.
Dr. Wang is the William Kepler Whiteford Professor in Bioengineering with adjunct positions in Chemical Engineering and Surgery at the University of Pittsburgh. He obtained his PhD degree in Chemistry at Stanford University in 1999 and performed his postdoctoral studies at Massachusetts Institute of Technology.  He joined the Bioengineering Department at University of Pittsburgh in 2008 after serving as an Assistant Professor at the Georgia Institute of Technology for 5 years. He has published high-impact articles at every stage of his academic career in journals including Science, Nature research journals, and The Proceedings of the National Academy of Sciences.
Dr. Wang's research focuses on creating biomaterials that present controlled chemical, physical, and mechanical signals to cells, tissues, and organs. The ultimate goal is to control how the human body interacts with these materials. He is especially interested in applications of biomaterials in the cardiovascular, nervous, and musculoskeletal systems. His team enjoys collaboration with other scientists and clinicians who share the same passion in translational research. Current projects of the Wang Lab include vascular grafts, controlled release of proteins, and microfabrication of biomaterials.
The AIMBE is a non-profit organization headquartered in Washington, DC, representing 50,000 individuals and the top 2% of medical and biological engineers.  In addition, AIMBE represents academic institutions, private industry, and professional engineering societies.  AIMBE was founded in 1991 and its current vision is to provide leadership and advocacy in medical and biological engineering for the benefit of society.  AIMBE is the authoritative voice and advocate for the value of medical and biological engineering to society.  It is an organization of leaders in medical and biological engineering, consisting of academic, industrial, professional society councils, and elected fellows.
Congratulations, Dr. Wang!
Read more…
American Association for Medical and Biological Engineering