McGowan Institute 2020 Scientific Retreat

Oglebay Resort
465 Lodge Dr, Wheeling, WV
---
McGowan Institute Scientific Retreat
March 9-10, 2020
---
APPLY FOR TECHNOLOGY PITCH COMPETITION
---
Program Highlights
Regenerative Medicine Technology Pitch Competition: Pitch your early-stage technology to a panel of experts for a chance to win up to $2,500. Selected teams will receive pre-event coaching from sciVelo commercial translation architects. Click here to apply!!
Team Formation to Address Grand Challenges in Regenerative Medicine: Do you have an idea for a large scale proposal that requires new collaborations and team formation? Prospective team leaders will pitch their proposal ideas to the audience. All participants will receive coaching from established leaders on assembling large teams to address unmet clinical needs, fill technological gaps or develop educational tools and experiences. Time will be allotted for team formation, brainstorming and creating action plans.
Screening of Burden of Genius: Join your colleagues for McGowan Institute "Movie Night" when we will host a screening of Burden of Genius, a film on the life and career of Dr. Thomas Starzl, the father of transplantation. Filmmaker Carl Kurlander will provide opening remarks on the making of the film.
Fireside Chat with Local Entrepreneurs:  In this informal session, attendees will engage with a panel  of academic entrepreneurs and CEOs from local start-up companies to learn tips for success in starting a new company.
Commercialization Office Hours: Individuals from Pitt's Innovation Institute, SciVelo and LifeX and CMU's Office of Technology Transfer will hold office hours throughout Day 2 of the retreat. Participants will have scheduled consultations to discuss their commercialization ideas and receive tailored advice on how to advance technologies from bench to bedside including advice on regulatory affairs, business development, market potential and more. *Completion of a short survey will secure your individual time and customize your consultation needs (more details coming soon.)
Invention Disclosure Sprints: Do you have an idea and haven't yet submitted an invention disclosure to your University? Submit your invention disclosure(s) with your tech transfer office before the conclusion of the retreat for a chance to win a free night's stay at Oglebay Resort!
Emerging Themes in Regenerative Medicine: A parallel session track will host a series of topical research talks from faculty and trainees on the following topics: Tissue Therapies and Cancer, Pulmonary Repair/Regeneration, Early-Stage Translational Technologies and Synthetic Biology in Regenerative Medicine
Poster Teasers and Poster Presentations: Short poster teaser talks (5 min) will kick off the 2020 McGowan Retreat followed by a reception and poster session. Posters will be judged and winners announced on Day 2 of the retreat. *Poster awards are sponsored by SciVelo
Trainee Workshop: Interested in learning about which career path is right for you after graduate studies? Join our panel discussion on Academia Versus Industry Career Paths to hear the experiences of our panelists representing academia and industry to learn about the process of starting your career as young professionals.
Diversity Lecture: A lunch lecture featuring Paula Davis, MA- Assistant Vice Chancellor for Health Sciences Diversity, Health Sciences, who will discuss the importance of diversity in interdisciplinary biomedical research.
---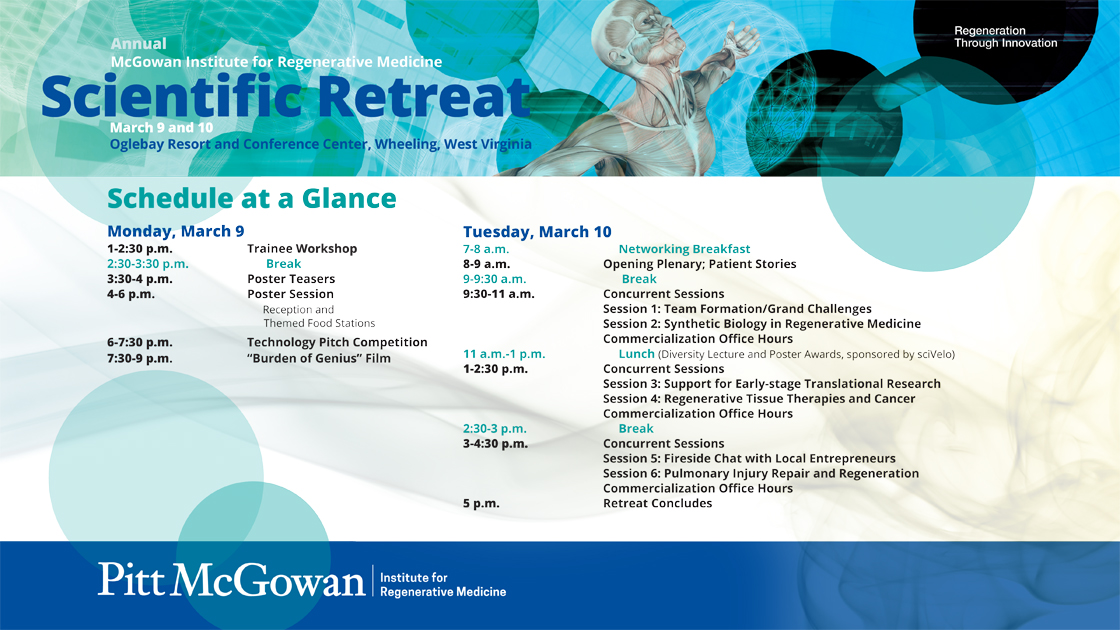 ---
2020 Program Committee:
Julie Phillippi, PhD (Chair) – University of Pittsburgh
Bryan Brown, PhD – University of Pittsburgh
Patrick Cantini – University of Pittsburgh/McGowan Institute
Andy Duncan, PhD – University of Pittsburgh
Don Taylor, PhD – University of Pittsburgh/PittSciVelo
Rosalyn Abbott, PhD- Carnegie Mellon University
Abigail Allen (trainee member) – University of Pittsburgh
Piyumi Wijesekara Kankanange (trainee member) Carnegie Mellon University
Please contact Rebecca Bauroth with any questions regarding the 2020 McGowan Retreat.
---
Sponsors: