McGowan Institute 2019 Scientific Retreat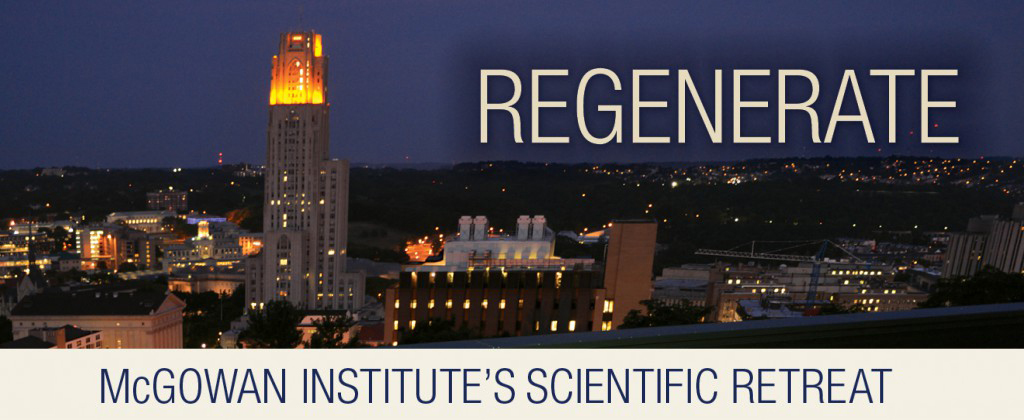 University Club
123 University Place
Open-to-the-Public Forum
March 12, 2019
4:00-6:00pm
"The Hope vs. Hype of Regenerative Medicine" followed by "Meet the Researchers of the McGowan Institute" reception and poster session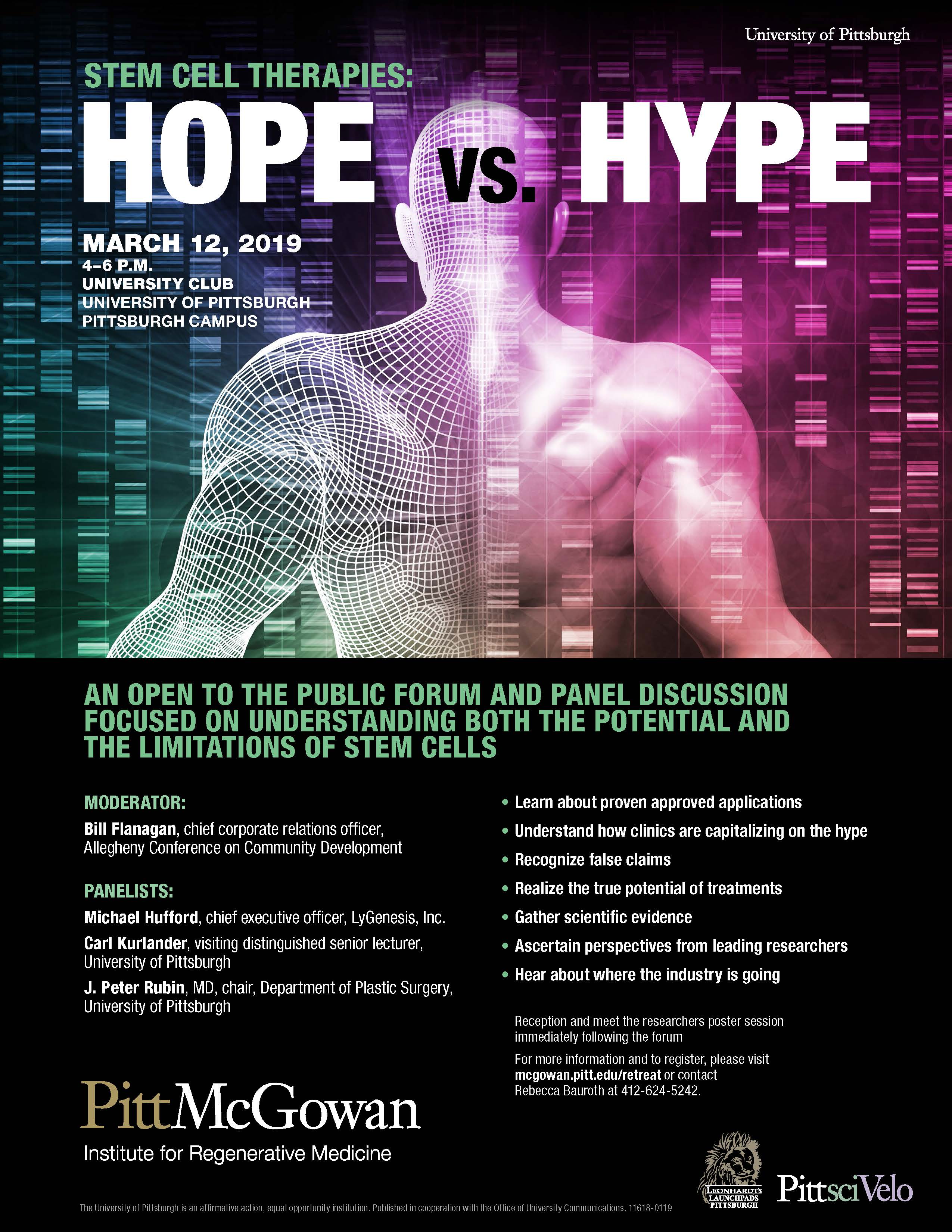 Moderator: Bill Flanagan, chief corporate relations officer, Allegheny Conference on Community Development
Panelists:
Lawrence Wechsler, MD, Chair, Department of Neurology, University of Pittsburgh School of Medicine
Carl Kurlander, documentarian and filmmaker, Visiting Distinguished Senior Lecturer, University of Pittsburgh
J. Peter Rubin, MD, chair, Department of Plastic Surgery, University of Pittsburgh
---
McGowan Institute Scientific Retreat
March 11-12, 2019
Registration is closed.
To view the current agenda, click here.
To view the poster abstracts, click here.
Program Highlights
State of the Institute Address: William R. Wagner, PhD-Director
McGowan Institute for Regenerative Medicine Distinguished Lecture and Luncheon- Speaker: Jennifer Elisseeff, PhD Johns Hopkins University
"Lessons in regenerative medicine translation: are we designing for the right therapeutic target?"
A select number of abstracts may be chosen for oral presentation in breakout sessions
Breakout Sessions: Combination of lectures and interactive panel discussions
Topic areas include:
Pulmonary Bioengineering/Biohybrid Organs
Importance of (Re)Vascularization in Tissue Regeneration
Computational Modeling of Injury, Infection, Inflammation, and Healing
Regenerative Rehabilitation
Pediatric Device Initiative
Drug Delivery Strategies in the Extracellular and Intracellular Space
Tumor Immunotherapy: Novel Research Foci and Improved Clinical Targets
Emerging Military Threats, Combat Casualty Gaps and Opportunities for Innovation
Liver Regeneration
Image-Guided Drug Delivery in Regenerative Medicine
Let's Talk Science: Communicating Your Research to Different Audiences
Pop-Up Workshops
I Finished Training, Now What? Establishing a Pathway to Independence

This session will provide a multi-faceted look at how to succeed as an early-stage/new investigator in the field of regenerative medicine. Members will learn what to look for in a first position in an academic environment including resources and institutional support. Early stage funding sources (institutional grants, federal, independent non-profit, and career development awards) will be reviewed. Additionally, the session will explore how to initiate early collaborations, and who those collaborators should be, while continuing to develop a clear designation as an independent researcher. The session will conclude with a moderated discussion panel of speakers, as well as select early investigators currently in the process of making this transition.

Pharmaceutical Quality by Design Research and Education

The purpose of this session is to familiarize the McGowan community with extensive ongoing research and education on pharmaceutical manufacturing processes and quality by design research and education at Duquesne University. DU has been a founding member of The National Institute for Pharmaceutical Technology & Education (NIPTE), a collaboration of academia, industry and other stakeholders to advance pharmaceutical manufacturing science. NIPTEs vision of assuring quality, affordability and availability of pharmaceutical products aligns extremely well with the McGowan vision of advancing patient care with modern technology. DU Faculty leaders in this area will present new advances in research and education.

Malignant Pleural Effusions: When Push Comes to Shove

This workshop will introduce the audience to the malignant pleural tumor microenvironment. This workshop will host 4 short presentations including an overview of current therapies for this unsolved problem in modern medicine, explore stem cells and immune cells of the pleural microenvironment, trials and tribulations of virus delivering cytokines, and novel immune-based approaches.  The workshop will engage the audience in a discussion aimed at identifying strategies to overcome the negative pressure of this tumor microenvironment and to "hack" the adaptive immunity to provoke and extend an immune response. Workshop participants will be invited to join a regular Working Group to address topics presented in between and in concert with future McGowan retreats.

Wearable Biosensors
Additional breakout sessions and workshops are actively being planned.
Back by popular demand:
Roundtable Lunch-Special Interest Topics *trainee focused, Organized by Garrett Coyan, MD.
Rapid Fire Presentations *trainee focused
Poster Competition and People's Choice Award *trainee focused **Poster Awards sponsored by SciVelo
2019 Program Committee:
Julie Phillippi, PhD (Chair) – University of Pittsburgh
Bryan Brown, PhD – University of Pittsburgh
Patrick Cantini – University of Pittsburgh
Garrett Coyan, MD (trainee member) – University of Pittsburgh
Andy Duncan, PhD –  University of Pittsburgh
Adam Feinberg, PhD- Carnegie Mellon University
George Gittes, MD- Children's Hospital of UPMC
Robert Kormos, MD – University of Pittsburgh
Jelena Janjic, PhD- Duquesne University
Please contact Rebecca Bauroth or John Murphy with any questions regarding the 2019 McGowan Retreat.
---
Sponsors: