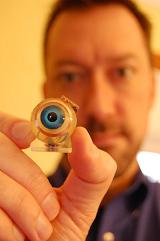 The Neural Devices Engineering Laboratory, Institute for Complex Engineered Systems at Carnegie Mellon University, is headed by Senior Systems Scientist Shawn Kelly, PhD, a McGowan Institute for Regenerative Medicine affiliated faculty member.  At the Neural Devices Engineering Laboratory, Dr. Kelly and his team design and develop novel medical technologies, in particular circuits for neural interfaces. The team primarily designs neural stimulation circuits and inductively-coupled wireless power and data telemetry systems. They also study electrode-tissue interface, as well as the process for inducing nerves to fire, in order to develop optimized, longer-lasting neural interfaces for neural stimulation and recording applications and neuroscience research.
One of the projects in the lab is work on a retinal prosthesis in collaboration with the Boston Retinal Implant Project, a joint effort of the Veterans Administration, Massachusetts Institute of Technology, and Massachusetts Eye and Ear Infirmary, a group Dr. Kelly has worked with since 1996. The retinal prosthesis restores useful sight to people blind with degenerative retinal diseases by stimulating healthy retinal ganglion nerves to create a pixelated image. The group has successfully built three different generations of wirelessly-powered prostheses and implanted all three in animals in preparation for clinical trials. He is the lead electrical system architecture designer for the next generation implant, designing all of the inductively coupled power and data telemetry systems for the prosthesis and coordinating current generation implant component assembly by outside vendors.
As reported by Kathy Serenko, Next Pittsburgh, the retinal prosthesis is an implantable electronic device that bypasses the non-functioning retina by creating and sending electronic signals to the optic nerve. Researchers have spent years tackling a multitude of complex challenges, including the wireless delivery of power to the ocular nerve cells, the implantation of the device in a very small cavity at the back of the eye and the safety of the device over the course of the user's lifespan.
During initial clinical trials, electrodes were inserted into the eyes of blind people for a few hours to prove the feasibility of an implantable retinal prosthesis. Now, the team is working with the FDA to gain approval for a much more extensive round of clinical trials, a process that could take another 2 years.
In the meantime, the team has reduced the size of the implantable device, created a new and safer titanium case, advanced microchip technology, and fabricated new and improved electrodes.
In the next round of clinical trials, the number of electrodes will be increased from 15 to more than 200, in order to restore a more functional level of vision.
Because natural vision is driven by millions of photo receptor cells, researchers understand that the replacement of a few hundred will result in pixelated images. Restoring enough vision to maneuver safely through the tasks of daily life, however, is reason enough to keep Dr. Kelly committed to his research, even if that means another 20 years.
Illustration:  Dr. Shawn Kelly with the retinal prosthesis.  –Next Pittsburgh.
Read more…