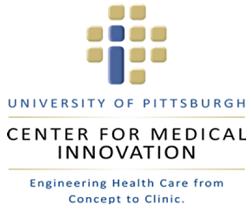 The University of Pittsburgh's Center for Medical Innovation (CMI) awarded grants totaling $85,000 to four research groups through its 2015 Round-2 Pilot Funding Program for Early Stage Medical Technology Research and Development. Two of these funding proposals from McGowan Institute for Regenerative Medicine affiliated faculty members are for a nanowire glaucoma drainage implant and for bioactive hydrogels for bone regeneration.  Details include:
Self-Cleaning Smart Antibacterial Surfaces:  Award to design, build, and test a glaucoma drainage implant with antimicrobial properties based on nanowire technology.
Paul W. Leu, PhD, Assistant Professor, Industrial Engineering
Graham Hatfull, PhD, Professor, Department of Biological Sciences
Robert M.Q. Shanks, PhD, Associate Professor, Department of Ophthalmology
Nils Loewen, DMSC, MD, PhD, Associate Professor, Department of Ophthalmology
RegenMatrix (Collagen-mimetic Bioactive Hydrogels for Bone Regeneration):  Award to develop a bioactive hydrogel to guide bone mineralization in osteoporosis and in healing of fractures.
Shilpa Sant, PhD, Assistant Professor, Pharmaceutical Sciences
Yadong Wang, PhD, Professor, Bioengineering
Sachin Velankar, PhD, Associate Professor, Chemical Engineering
Charles Sfeir, DDS, PhD, Associate Professor, Department of Oral Biology
CMI, a University Center housed in Pitt's Swanson School of Engineering (SSOE), supports applied technology projects in the early stages of development with "kickstart" funding toward the goal of transitioning the research to clinical adoption. Proposals are evaluated on the basis of scientific merit, technical and clinical relevance, potential health care impact and significance, experience of the investigators, and potential in obtaining further financial investment to translate the particular solution to healthcare.
"This is our fourth year of pilot funding, and our leadership team could not be more excited with the breadth and depth of this round's awardees," said Alan D. Hirschman, PhD, CMI Executive Director. "This early-stage interdisciplinary research helps to develop highly specific biomedical technologies through a proven strategy of linking UPMC's clinicians and surgeons with the Swanson School's engineering faculty."
Illustration:  Center for Medical Innovation.
Read more…
University of Pittsburgh Swanson School of Engineering News Release