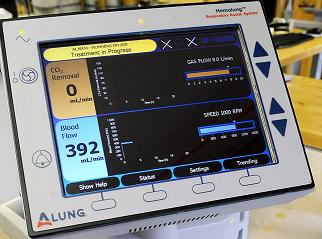 As reported by Kris Mamula, Pittsburgh Post-Gazette, South Side biotech company ALung Technologies, Inc. has closed a $12 million financing round, with investors about evenly split between existing shareholders and new high net-worth individuals, mostly from southwest Pennsylvania, a company executive said.
From technology developed at the McGowan Institute for Regenerative Medicine by William Federspiel, PhD, William Kepler Whiteford Professor in the Department of Bioengineering, Chemical Engineering, and Critical Care Medicine, and the late Brack Hattler, MD, ALung makes a medical device that removes carbon dioxide and delivers oxygen to the bloodstream, replacing intubation where oxygen is delivered to the patient through a tube that is placed into the entrance to the lungs. The company's Hemolung Respiratory Assist System has received priority processing status from the Food and Drug Administration.
ALung chairman and CEO Peter DeComo said the funds would be used for continuing operations and further validation of the company's therapies outside the U.S.  Funding from the most recent round will prepare for clinical trials in early 2017, which will be needed for FDA approval, Mr. DeComo said.
"More clinical data is needed to substantiate the therapy," he said.
ALung was founded in 1997 and employs 28 people, including 6 in Europe.  The company's device has been used successfully on two patients in the U.S.  Hemolung's market is estimated to be about $3 billion.
Illustration:  The Hemolung system, developed by ALung, is a respiratory-assist system that works as an artificial lung for medical patients with issues such as emphysema, asthma, and chronic bronchitis.  (Michel Sauret/Pittsburgh Post-Gazette)
Read more…
McGowan Institute for Regenerative Medicine In the News: New Study Shows Promise of ALung's Hemolung Technology to Help Protect the Injured Lung
McGowan Institute for Regenerative Medicine In the News: From Bench to Bedside: Technology Developed by McGowan F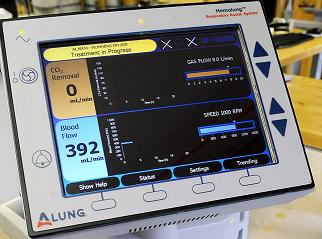 aculty Used in Clinical Setting
McGowan Institute for Regenerative Medicine In the News: McGowan Institute Medical Device Technology Receives Gold Medical Design Excellence Award
McGowan Institute for Regenerative Medicine In the News: Wearable Artificial Lung to Be Developed at Pitt Through $3.4 Million Grant