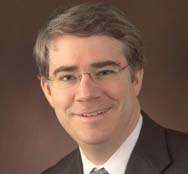 A team of surgeons and interventional cardiologists at the University of Pittsburgh Medical Center (UPMC) recently performed their 500th transcatheter aortic valve replacement (TAVR), more than any other heart program in the region. The minimally invasive procedure repairs the aortic valve in patients with severe aortic stenosis, a debilitating narrowing of the heart's aortic valve that causes shortness of breath, lightheadedness, and fatigue.
"TAVR does not require opening the heart, and we can avoid placing the patient on a heart-lung machine," said McGowan Institute for Regenerative Medicine affiliated faculty member Thomas Gleason, MD, chief of the division of cardiac surgery at UPMC. "As the largest heart surgery program in Pennsylvania, the UPMC Heart and Vascular Institute has access to more of the new transcatheter valve technologies than any other program in the region, and we are continuing to evaluate new designs for these life-saving devices."  Dr. Gleason as serves as an Associate Professor of Surgery, Division of Cardiothoracic Surgery, University of Pittsburgh School of Medicine, with a secondary appointment in Pitt's Department of Bioengineering, Swanson School of Engineering.
UPMC physicians began performing the TAVR procedure in 2011 and now are among the most experienced in the country.
The treatment greatly improves the quality of life for those who suffer from aortic stenosis, which affects as many as 500,000 people in the U.S. This condition can interfere with daily activities, such as walking or climbing stairs. Previously, a patient's only option was to have open-heart surgery to replace the aortic valve, but the procedure often was deemed too risky for elderly patients, who are most prone to the condition.
TAVR involves implanting an artificial valve through a catheter, or thin tube, inserted through a large artery in the leg or chest. As a leading center, UPMC is the only program in the region to have four different types of catheter valves available for implantation, two of which are FDA-approved and two of which are available only through clinical trials in the U.S.
"Open heart surgery is not the ideal option for every patient," said John Schindler, MD, co-director of the Center for Aortic Valve Disease at UPMC. "TAVR provides an additional aortic valve replacement option for high-risk patients who would benefit from a less-invasive procedure."
Read more…
UPMC/University of Pittsburgh Schools of the Health Sciences Media Relations News Release